Did your friends ever tell you that there are no such things as flowers for men? Well, they were very wrong. Your local florist would agree with us. One of the most thoughtful gifts in the world is flowers.
Sending flowers to your special someone, a beautiful bouquet carefully picked for them only is a great gift that tells someone you care for them. For those who have a sweet tooth, you can add some chocolate as well.
However, it is not simple to choose flowers for your special someone. But don't get discouraged. Modern man isn't a man cave anymore and you can bring flowers on your date night with him.
There are some things you should think about before you buy flowers: their favorite color, maybe a gender-neutral bouquet, an occasion, and due to the occasion, decide how low maintenance you want to keep it.
To help you choose a perfect surprise with flowers for men and to brighten up their day, let's see more about flowers for men below, shall we?
What Are Flowers For Men?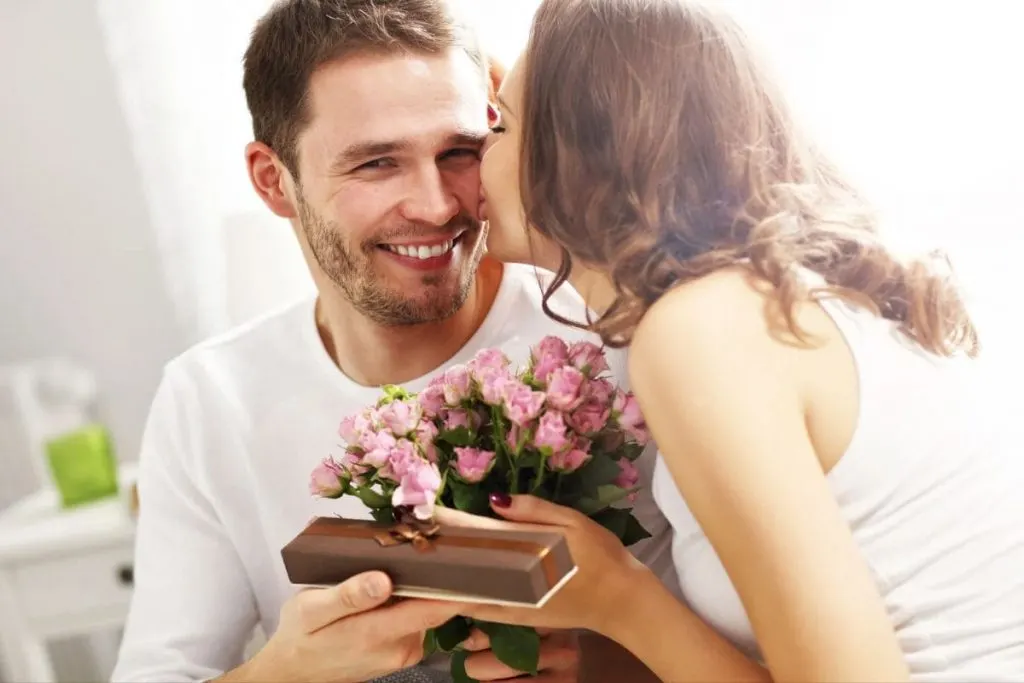 Flowers for men are usually gender-neutral flowers that are given to your special man on a special day or any other day you want to surprise him. There are even the right funeral flowers for a man.
Life is about making people you love smile. What's better for such things than flowers? Not only women are happy when they get flowers, men are happy too.
In addition, buy them a vase too so they can place deep red color flowers or sunflowers you buy them.
What Is A Good Flower To Give To A Man?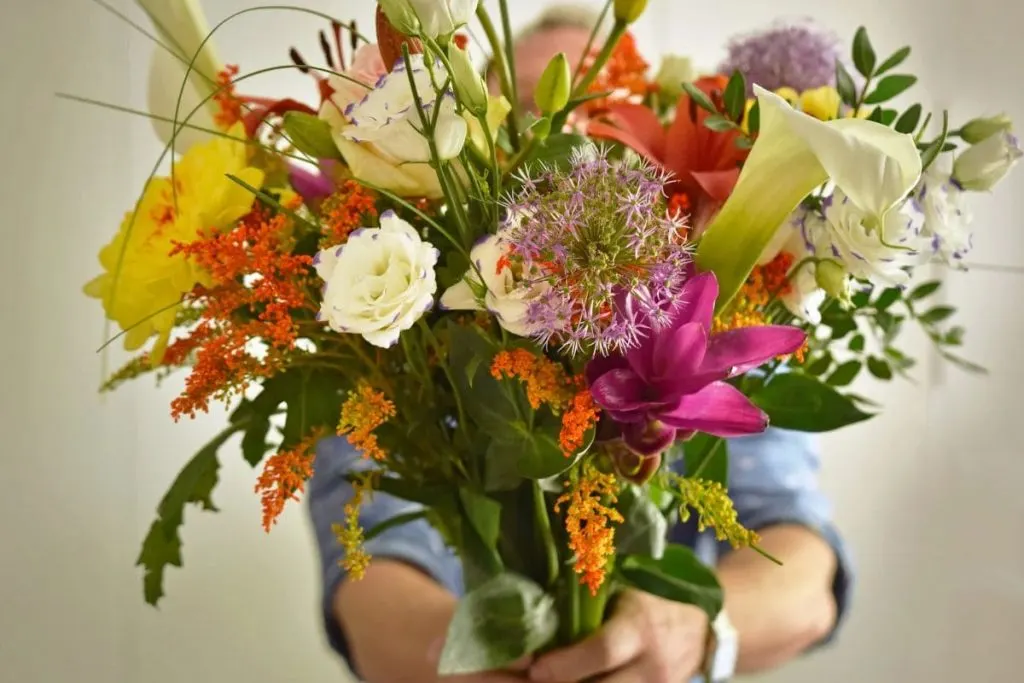 There is no such thing as good or bad flowers for men. You simply want to buy them bouquets they will be able to keep in their room or office. When you go to the shop, lead yourself with their usual taste, favorite colors, occasions, and similar things.
Some men love yellow, orange, or pink flowers, and some prefer tulips and lilies. Not all guys are the same.
However, since these guys are bold type, we advise you to buy them red flowers on occasions such as your anniversary. Dark red roses are even better than bright ones. To sweeten up the deal you can use some flower quotes, tulip quotes, quotes about flowers and love, and much more.
Is It Okay To Buy Flowers To Men?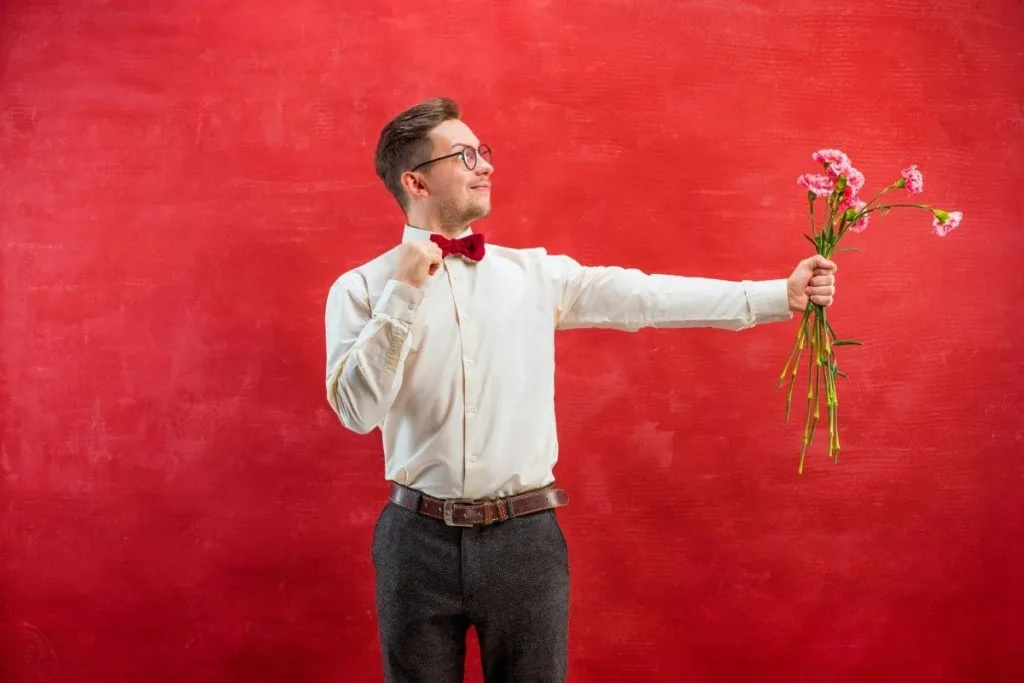 There may have been prejudices about these things in the past, but today it is quite normal to buy a man flowers.
So who wouldn't want fragrant roses in their apartment? If you add to that a special occasion, i.e. an event in his life, it makes a lot of sense to give him a bouquet of flowers.
Flowers For Men: 9 Men Flowers That They Will Love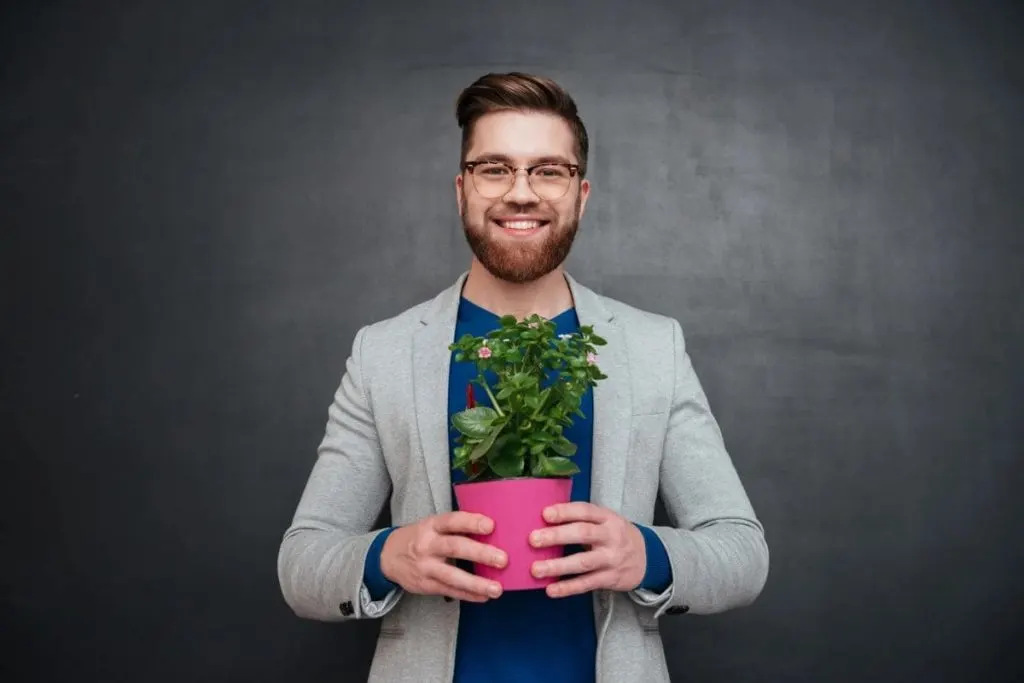 If you need some ideas and inspiration for men's flowers that he can spruce on his table, we bring you 9 lovely flowers. Along with that, there is a special plant you can choose for him as well. Let's check it out then.
1. Red Roses As The Best Flowers For Men
Roses are the most romantic flower in the world. Their symbolism of love, passion, and longing for someone is a reason enough for her to be the flower for your special man.
In addition to carrying wonderful symbolism, rose flowers look amazing, smell wonderful and last a long time. If you place it in the office, room, kitchen, or anywhere, it will last at least 15 days.
All those 15 days, he will think of you when he looks at the fragrant roses in the vase. If you choose the color of roses, always go with red roses, although other colors are not to be rejected if your man does not like the color red.
2. Red Chrysanthemums Are The Perfect Birthday Flowers For Men
Chrysanthemums are not only the perfect flowers for men, but they are also one of the most famous zodiac flowers. These perfect flowers symbolize love, passion, friendship, happiness, and well-being.
Precisely because of their symbolism, they are excellent flowers for men. If the man you are giving these flowers to is your friend, then go with some bright chrysanthemum colors.
Red chrysanthemums symbolize strictly love and passion and are intended for a man towards whom you have romantic feelings.
3. Black Dahlia Flower Arrangements For Your Guy
Black dahlia flower meaning doesn't have anything to do with the fact that it's one of the best flowers for men. Its meaning is pretty negative: sadness, betrayal, and other negative emotions.
However, the fact that this flower is black and dark is one of the reasons why it's chosen as a flower for a man. Every man loves black color and getting such a flower is less feminine maybe those men who wouldn't enjoy red roses, would love black dahlia flowers for sure.
4. Oriental Lily Is Another Masculine Flower He'll Love
No wonder why is this amazing flower national flower of Italy. Its amazing symbolism and breathtaking look are one of the reasons why is it a national flower and now a flower for men as well.
They symbolize purity and rebirth but due to their gender-neutral look and color, they are one of the most famous flowers for men.
If your perfect guy experienced a new milestone in his life recently, this flower is more than suitable for such an occasion.
5. Paradise Flower For A Flower Delivery To Your Man
Paradise flower arrangement is definitely the most beautiful thing you'll see these days. Its symbolism is very similar to sunflower symbolism. In case they don't have paradise flowers in the shop, go with the sunflowers instead.
The paradise flower symbolizes faithfulness, love, and thoughtfulness. They are the perfect flower for your special guy if you're in the early stage of dating or you're about to start dating.
The only thing that is "bad" about this flower is that they are super rare in flower shops. I would recommend you already think about alternative flowers.
6. Flower Arrangement Full Of Gerberas For Him
Gerberas are one of the favorite Aries flowers. If your special man is an Aries, you have a win-win situation there. Their symbolism is the reason why these flowers are flowers for men.
They symbolize cheerfulness and loyal love. What is a better way of saying you're loyal and admiring someone if not with a flower?
Since their variate in colors, you can get his favorite colors as well and that way, you have a perfect floral gift for your loving guy.
7. Send Flowers Such As White Orchids To A Man
The white orchid is the national flower of Guatemala and I guess we can already conclude how special this flower is. They symbolize purity and love and that's only one of the reasons why is it a perfect flower for a guy. Their gender-neutral color is one of the other reasons for its title as well.
8. No Mistake With Blue Flowers Of Hydrangeas For Him
Hydrangeas flowers symbolize beauty, grace, and gratitude. Add a lovely blue color to it and you have perfect flowers for men.
There are surely no men who wouldn't like and enjoy blue flowers. Another amazing blue flower is a blue rose-hybrid rose due to its blue rose meaning. Your man will love blue rose as well.
9. Succulent Plants As A Great Floral Gift For Men
At the very end, let's look at the facts a bit and the fact is: men will most definitely forget to change the water of the flowers or water them if they have plants. Why not give them a succulent plant such as cactus for example?
If they forget to water it, they won't have issues plus these plants are very decorative. If you don't have many ideas for the flower cards, then go with the succulent quotes.
Frequently Asked Questions About Flowers For Men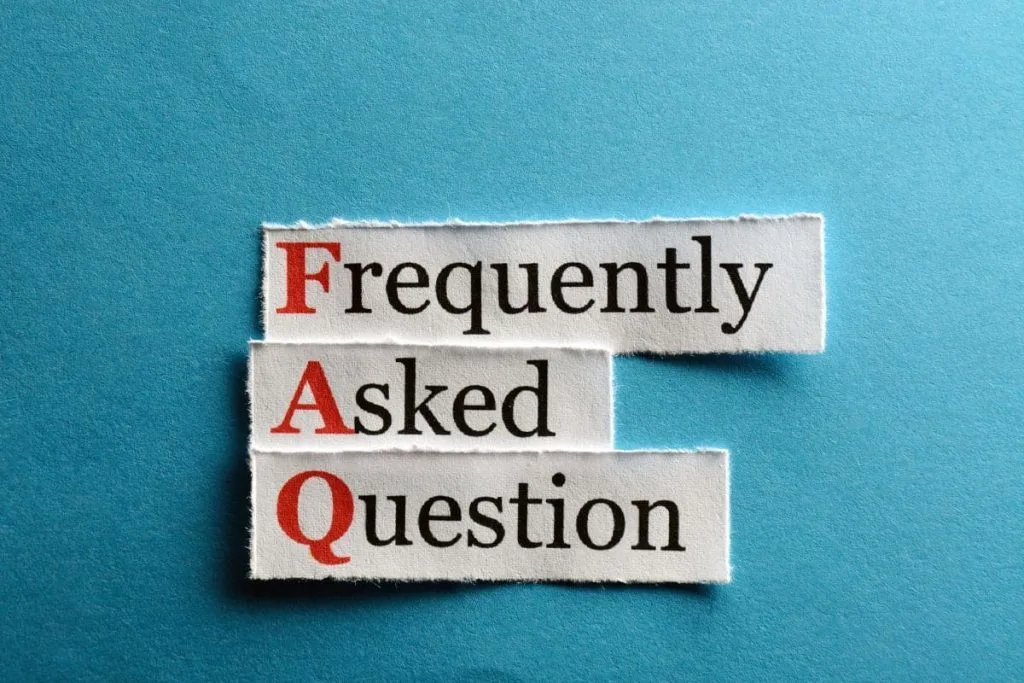 Below we bring you some of the most popular FAQs on the topic: flowers for men. Let's check it out so you definitely know everything about flowers for men at the end.
What Are The Romantic Flowers For Him?
Since the red rose meaning in relationship is a very powerful one, special and romantic, we agree that the best flowers for him and her are red roses. Red roses are the most romantic flowers in the world.
What Are Good Flowers For Men's Suit Pockets?
The best flowers for men's suit pockets are mini roses. Red, white, yellow, the color depends on the type and the color of the suit but mini roses are the win flowers for a suit.
In Conclusion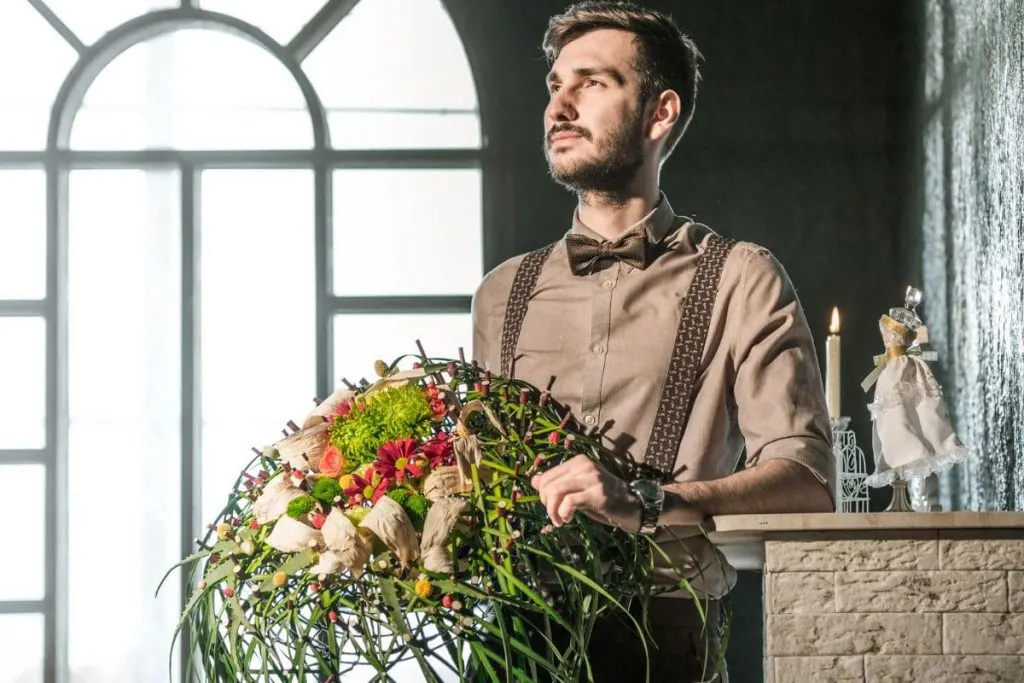 As we said at the very beginning, the modern man loves flowers, and today we helped you choose the perfect flowers for men. In case you want to learn more about flowers for girlfriend we have such an article as well.
If you yourself had doubts about this gift until now, I'm sure you got rid of them today. Do some more research or open fashion catalogs and you will see how much men actually enjoy flowers.
In the apartment of a man who takes care of himself, you will surely find a vase with flowers, because why not? We all enjoy flowers. Their appearance and smell make both sleepy. We hope that the article was helpful.
That's all for today. See you soon with more similar topics.