Today we'll talk about fast-growing house plants and we'll go into detail about 9 varieties of these indoor plants. You might have one of the fastest-growing indoor plants in your home once we're done.
We all love and appreciate good plants in our homes, but sometimes, it seems like a plant needs an entire century to grow in your home.
This isn't the case with these plants. Depending on the variety, you'll have flowers and shiny leaves in 3 to 5 weeks. Isn't that amazing?
Without further thought then, let's learn the ultimate care guides for fast-growing houseplants below.
Quick Answers To Most Asked Questions About Fast-Growing House Plants!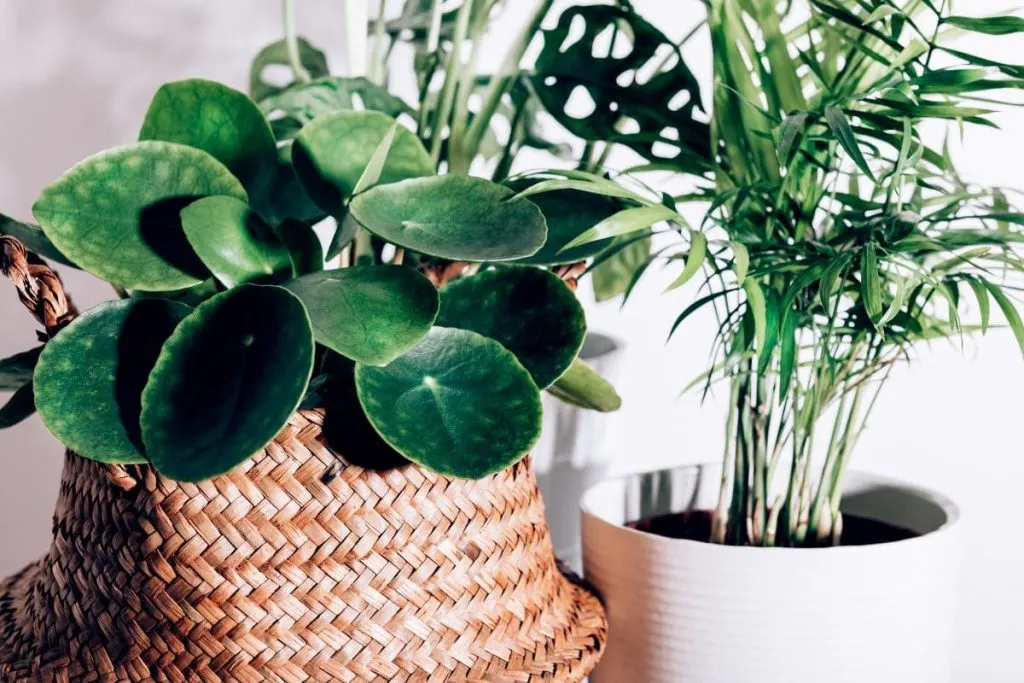 To make sure you know all about fast-growing indoor plants before reading about their varieties, we are bringing you some basic information about fast-growing plants' habits.
Let's learn more about these plants, the fast-growing house plants, and then we'll help you choose the perfect one for your home. We're ready!
What Indoor Plant Grows The Fastest?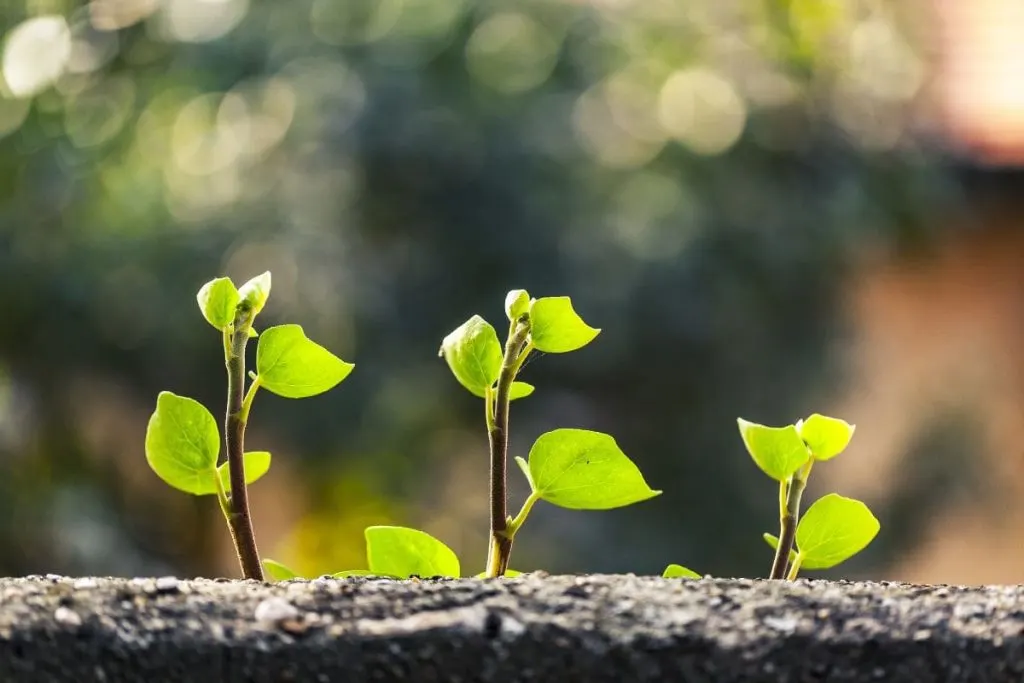 If you just moved to another flat or home for example and you want to get back your old home atmosphere as soon as possible, some of these plants will help you achieve that since they grow super fast:
Of course, some of these and many other plants we mentioned below and you'll have a chance to learn all about them in detail.
What Is The Easiest House Plant To Grow?
The easiest plant that even a beginner can grow and plant in their home is sansevieria (also called snake plant). The plant needs low light, almost any soil type suits it, it doesn't have to be fertilized much what does that tell you? It's super easy to grow!
What Plant Can Grow Rapidly?
Besides these plants we mentioned above, another plant so worth mentioning is the Bamboo tree. Some say that is the fastest-growing plant on Earth. Purchase a Chinese Bamboo Evergreen plant for your home and watch its progress, I'm sure you'll be more than surprised.
What Plants Can Grow In 2 Weeks?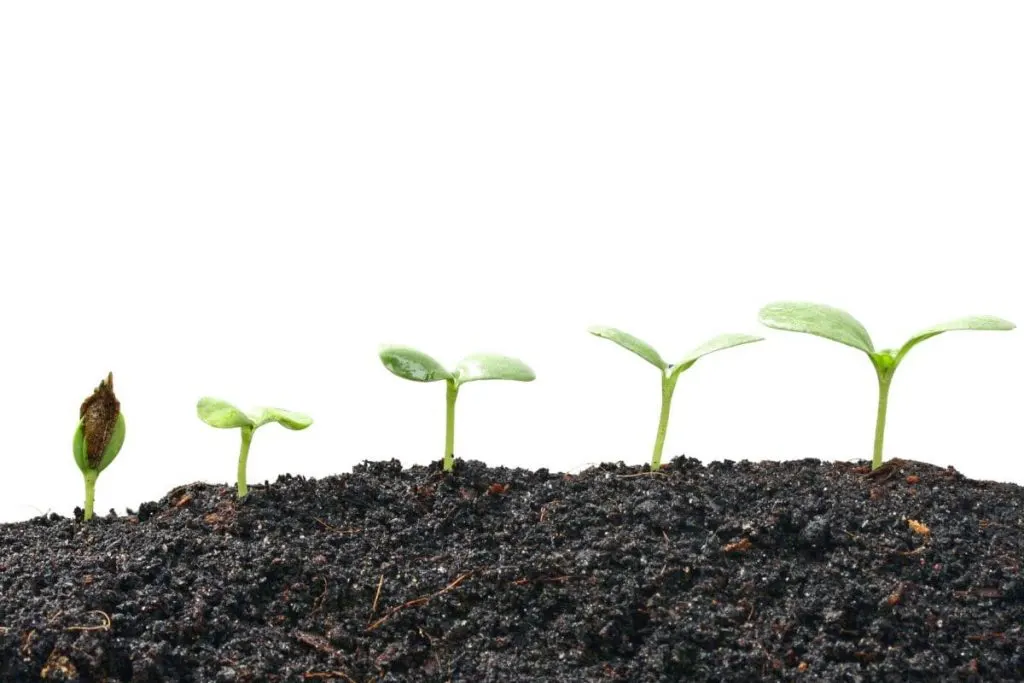 Almost 90% of the plants we'll mention in today's article below will grow in 2 weeks. Some of the other plants you can also purchase and expect to grow in 2 weeks are:
Get Yourself A Fast Growing Indoor Plant!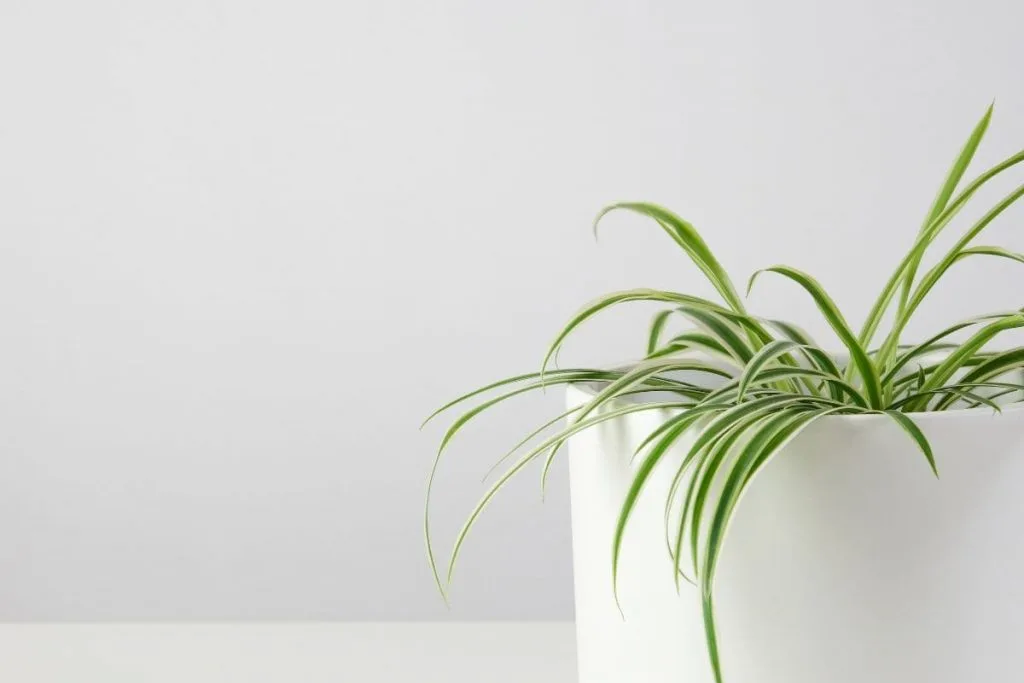 It's always hard to pick a perfect plant for your home. Sometimes, you want a green leaves plant that doesn't need much light, sometimes you want a succulent plant because you might forget to water it every now and then, sometimes, you just want fast-growing house plants.
It's your lucky day today! In today's article, we'll present you with 9 types of fast-growing indoor plants and you'll fall in love with each of those plants I promise. If you're ready, let's learn more about fast-growing houseplants.
1. Fiddle Leaf Fig Plant For Your Home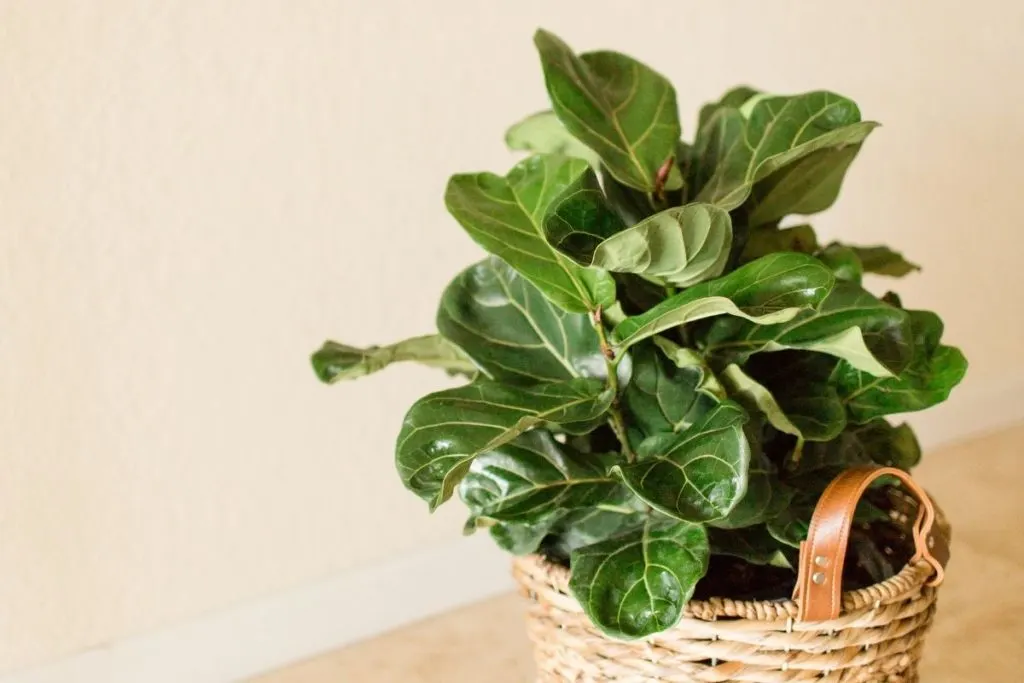 Fiddle leaf fig is a great houseplant that will just keep growing in your home if you provide it with the perfect conditions. Its violin-shaped leaves will brighten up every space you put them in. It's not hard to care about, but it is toxic to cats and dogs, so watch out for that.
Light conditions
Direct sun can't do any good for this plant. Its sensitive green leaves hate direct sunlight so it's best to place the fiddle leaf fig plant on the west-facing window. When placed in that window, your plant will receive a perfect amount of bright indirect light and will have a partial shade.
Soil Type
Regular indoor potting soil and potting mix are perfectly fine for this plant. Loamy and sandy soils are a big no for this plant. Also, its pH should be around 5-6 on the pH scale. Soil should be well-draining soil as well.
Water Needs
A moderate amount of water is what the leaf fig plant needs. When you don't water this plant much its leaves lose that perfect darker green shiny color and they stay pale green. Fiddle leaf figs leaves drooping is a very common issue with this plant.
Temperature And Humidity
The perfect temperature for a fiddle leaf fig plant is between 65 and 80 F. Everything below or above will not suit it the best. When it comes to its humidity levels, the best is the ratio between 40 and 60% of humidity levels.
Fertilizer
High-nitrogen plant food is the perfect fertilizer choice for the leaf fig plant. Liquid fertilizers aren't recommendable for these plants.
Propagation
You can propagate this plant by using a method of stem cuttings. That is the easiest way to propagate your lovely fiddle leaf fig plant.
2. Purple Passion Plant Is A Fast Grower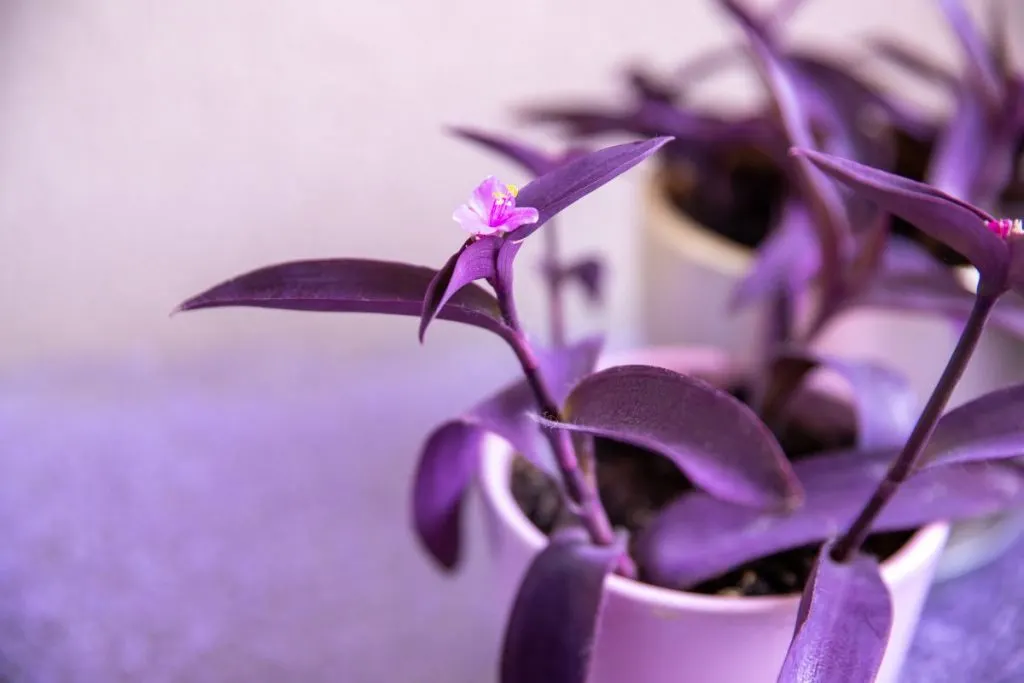 It is one of the loveliest purple house plants you can grow and get for your home. It has "hairy" leaves that you just won't be able to resist. As soon as you see it, you will want this hanging basket plant in your home. Some call it the purple velvet plant and royal velvet plant as well.
Light conditions
Indirect light combined with partial shade is the best light choice for this plant. It is best if you place this plant on the north-facing window. That will provide your plant with the perfect light conditions. In the morning, you can provide it with a bit of morning sun.
Soil Type
An indoor potting mix for plants is a good choice for these plants. They don't like loamy soils or soggy soils, however, you should water it, just not too much. Perlite soil is also a pretty great choice for purple beauty plants.
Water Needs
Moist levels should be moderate. In springtime and summer time you can water them a bit more, but during the winter season, you should lower the water levels for this plant. Tap water is just fine for purple passion plants.
Temperature And Humidity
These plants don't like high or medium humidity levels. The perfect humidity level for them is around 30%. Temperatures they best thrive in are between 60 and 70 F.
Fertilizer
Regular fertilizer application is a good choice for the purple passion plant. Liquid fertilizers can be a good choice as well, but nitrogen fertilizers shouldn't be applied to this plant.
Propagation
Take healthy stem cuttings, and place them in fresh soil that is previously well moistened and that is the easiest way you can propagate this plant.
3. Chinese Money Plant:

Fast Growing House Plants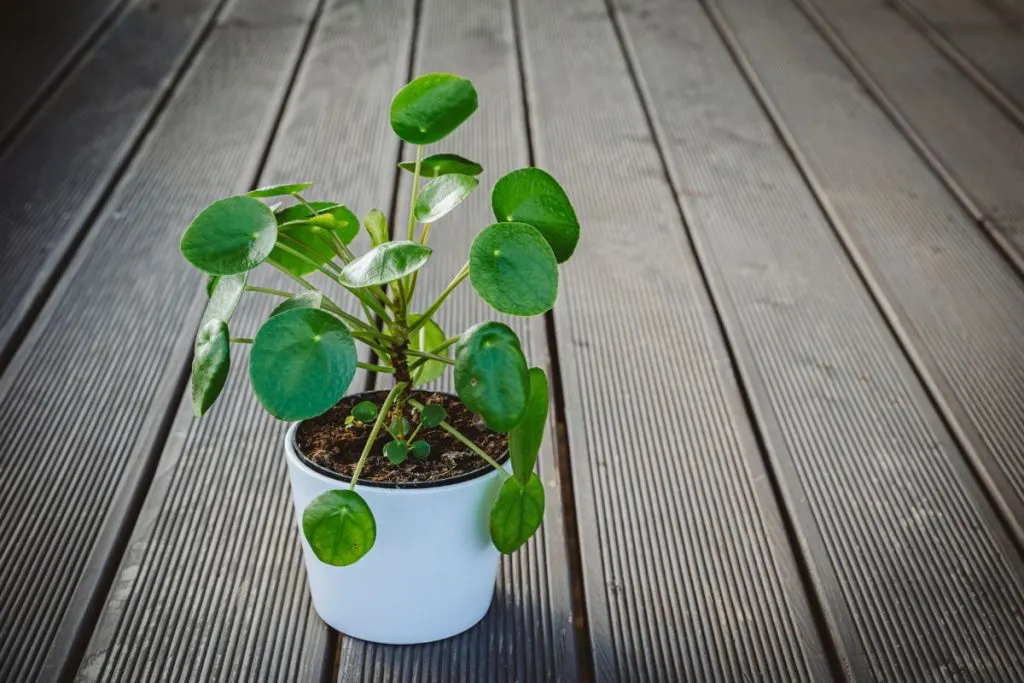 Chinese money plant is one of the best plants for an office with no windows and it actually might bring some luck for you and your family members. Many cultures believe that once you have this plant in your home, your financial stability is much better, so why not test it?
Light conditions
If you want your money plant to grow well in your home, provide it with medium to bright light conditions. The best locations with those light conditions are south-facing windows and east-south locations, maybe a balcony? Direct sun can easily burn its leaves really fast.
Soil Type
Peat moss and rich, well-draining soil is the best choice for Chinese money tree/plant. Soil's pH should be between 7 and 8 on the pH ratio scale. Perlite can also be good for your money plant.
Water Needs
This lovely perennial plant likes its watering levels medium. That means you should water it once or a maximum of 2 a week, but only if you notice that the top inch of the soil is dry. (finger check) always your money plant before you water it.
Temperature And Humidity
Anything below 50 F can fast and easily kill your plant, it might look droopy and it might get brown spots. The perfect temperature is 55 to 65 F. Humidity levels should be medium-50 to a maximum of 60%.
Fertilizer
Balanced house fertilizer for plants is probably the best choice. Don't fertilize this plant during winter or late fall time. Since the money plant is a type of peperomia plant, this works for all types of peperomia.
Propagation
Root propagation, stem cuttings, and even leaf cuttings are the 3 ways to propagate this plant. The most successful way of propagation however is a root division/propagation.
4. Asparagus Fern: Another Fast Growing Houseplant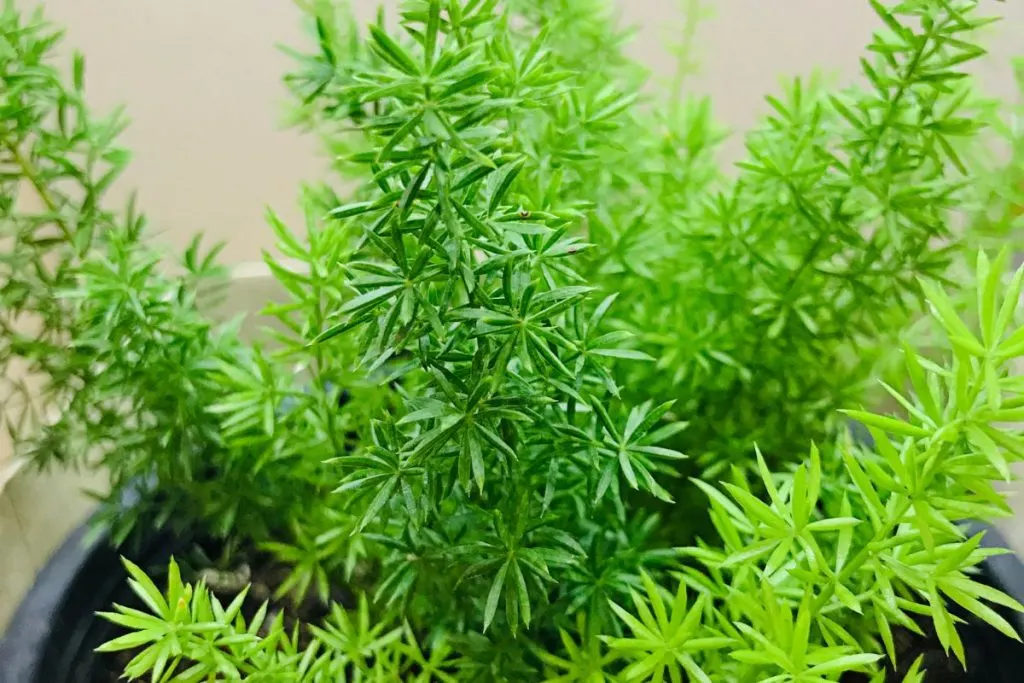 Asparagus fern is one of the loveliest types of ferns indoor. Its tiny leaves look much like rosemary and you'll be really excited to have this beauty in your home. It's a great decor plant that is pretty low-maintenance. It's also one of the indoor trees safe for cats.
Light conditions
This plant almost doesn't need light at all. They thrive best in shade, but of course, if there is a bright light it won't harm them. However, direct sun isn't an option, even in the morning. The west-facing window is its best location.
Soil Type
Well-draining potting soil will be a perfect suitable soil for asparagus fern. Soil should be slightly acidic and you should always check its pH before purchasing. Containers/pots should always have drainage holes.
Water Needs
Tap and rainwater are suitable water choices for asparagus ferns. However, since you're growing this plant indoors, in the wintertime, with radiators and heat devices, the soil shouldn't be dry, make sure you give it enough water during that period.
Temperature And Humidity
The temperature ratio is the best when it's between 60 to 75 F. If the temperature drops under 55 F, that can't be good for this plant. Humidity levels should be between 30 and 40%.
Fertilizer
Fertilizer diluted to half strength is your best chance with asparagus fern. It has all the nutrients that the plant needs. In the summertime, you can feed the plant on the weekly basis.
Propagation
The easiest way to propagate this type of fern is with seeds. Seeds are found in berries and then transplanted into the new pot in well-draining soil.
5.

Fast Growing House Plants

– Spider Plant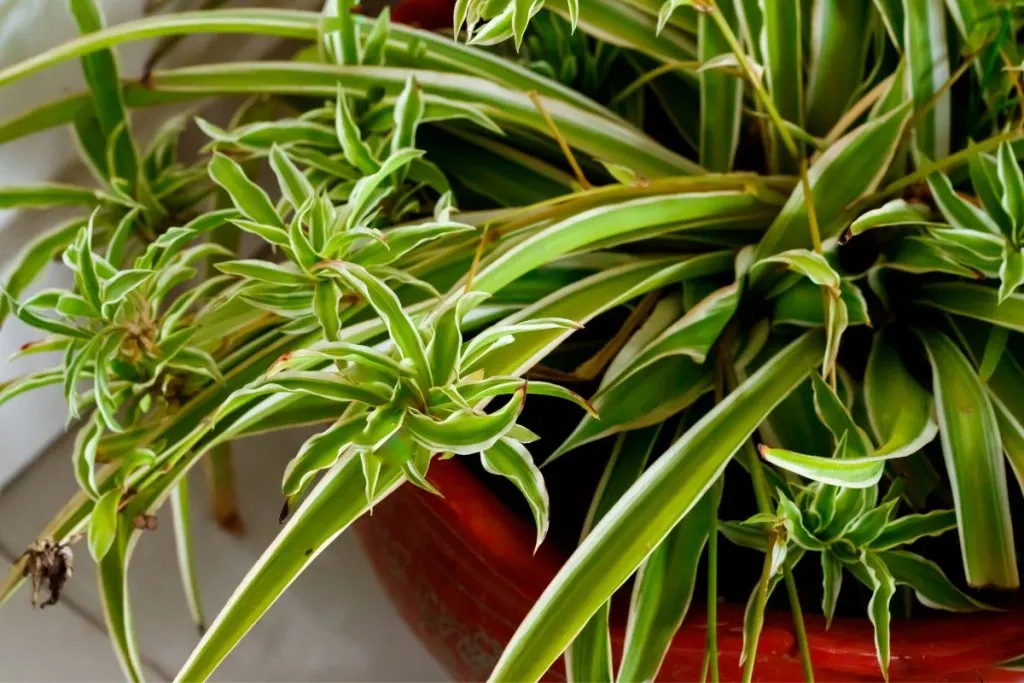 Spider plants are definitely among the most popular house plants nowadays. Their crawling mixed green features are what's so interesting about them. They go well with any home style and design. Let's learn in detail about the spider plant chlorophytum.
Light conditions
Baby spider plants are very sensitive to direct sunlight, but that's the case with many baby plants of other plants as well. These plants thrive best in bright indirect light when located on a north-facing window. Bright filtered light is also a good choice.
Soil Type
Moist soil works the best for them. The soil type you should buy is perlite or peat moss soil. They are similar to snake plants in their soil needs.
Water Needs
Their variegated leaves need medium levels of drainage. When you provide them with good water drainage, their lovely green leaves will thankfully shine in your home. Excess water however can cause root rot and kill them soon.
Temperature And Humidity
They thrive best in temperatures such as 50 to 75 F. They don't tolerate lower temperatures. The sudden temperature change can easily destroy them. Humidity levels should be around 50%.
Fertilizer
You can feed the plant actively during the summer and springtime. Regular fertilizer for houseplants is good for spider plants as well. Granular or water-soluble fertilizer in their growing season is good too.
Propagation
Root division is the easiest and most used way to propagate this plant. All you need is fresh soil previously watered. Place plantlets in clay soil and that would be it.
6. Snake Plant Will Look Great In Your Indoor Space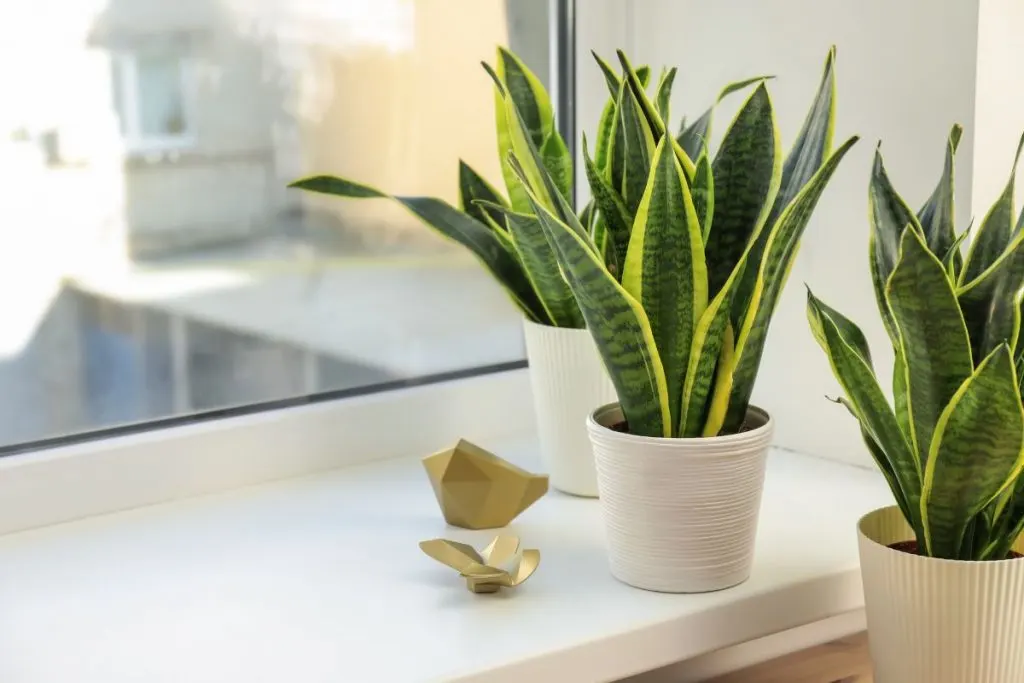 The snake plant is the perfect plant for beginners! This plant is not one of the demanding plants and you definitely won't have to take care of it much, but there are still some "rules" that you have to follow.
Light conditions
When it comes to the light required by this beautiful spiky green plant, bright indirect light works for it the best. You may need to treat it with some morning sun, but only in the morning! The strong afternoon sun can destroy its leaves very quickly.
Soil Type
The soil type that's the most suitable for snake plants is light loamy soil that drains well and registers between 6 to 7.0 on the pH scale. This beautiful plant can stagnate in its growth process if it does not have suitable soil.
Water Needs
If you're wondering how often to water the snake plant, you should know that the snake plant is a drought-tolerant plant. This does not mean that you should not water it for 20+ days. Proper water drainage is a must, but too much isn't.
Temperature And Humidity
The narrow dark green margin stands for the temperature between 50 and 60 F. Baby plants and parent plants thrive best in humidity levels between 50 and 60%. If you can't provide natural humidity levels, buy an air humidifier for the rooms where your plants are.
Fertilizer
Fertilizers are a tricky little game, so you better watch out. When it comes to the best choice of fertilizer, the best one is Plant Food 10-10-10. Liquid fertilizer isn't the best choice for this plant, that is for sure.
Propagation
You can propagate this plant by taking leaf cuttings from a mother plant. This is the easiest way to propagate snake plants. It's not a hard process to do, even a beginner can do it.
7. Peace Lily: Easiest And Fastest Plant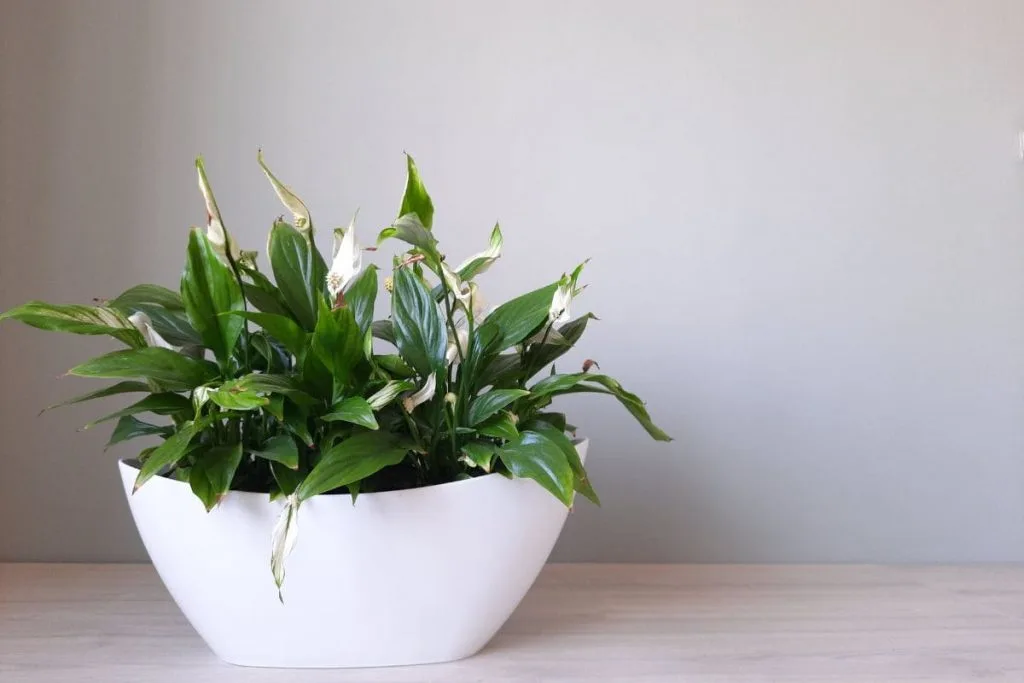 The most common question that people ask about this plant is how long do peace lilies live. Even in their short blooming period, they'll be one of the most beautiful plants you have in your home. They are easy-maintenance house plants.
Light conditions
Perfect light conditions are low light conditions and bright indirect light. The best position for a plant to receive such light is the west window, sometimes even the south-faced window. Direct sunlight can burn its leaves and cause yellow leaves issues.
Soil Type
Peace lilies don't like acidic soils. The best choices are perlite, peat moss, and loamy soils. The regular potting mix also isn't eh best choice.
Water Needs
The most important part of its watering schedule is drainage holes which are a must for this plant's pot. Peace lily likes good drainage and lots of water, and because of that exactly, its pot needs to have drainage holes.
Temperature And Humidity
The temperature ratio for peace lily is between 68 and 85 F. Temperature and humidity that are wrong on longer journeys will affect on their stem a lot so be careful. Peace lily's humidity levels should be medium. The best option is 50%, 60% is also fine.
Fertilizer
Peace lilies plants need to be fertilized in springtime, and once you did that, you can close the search for fertilizer. The recommended dosage is one-quarter of a package but during its blooming season.
Propagation
Seed propagation is a method suitable for peace lilies plants. Growing lilies from seed is a good way to obtain virus-free plant material.
8. Swiss Cheese Plant: One Of The Lovely Fast Growing Plants As Well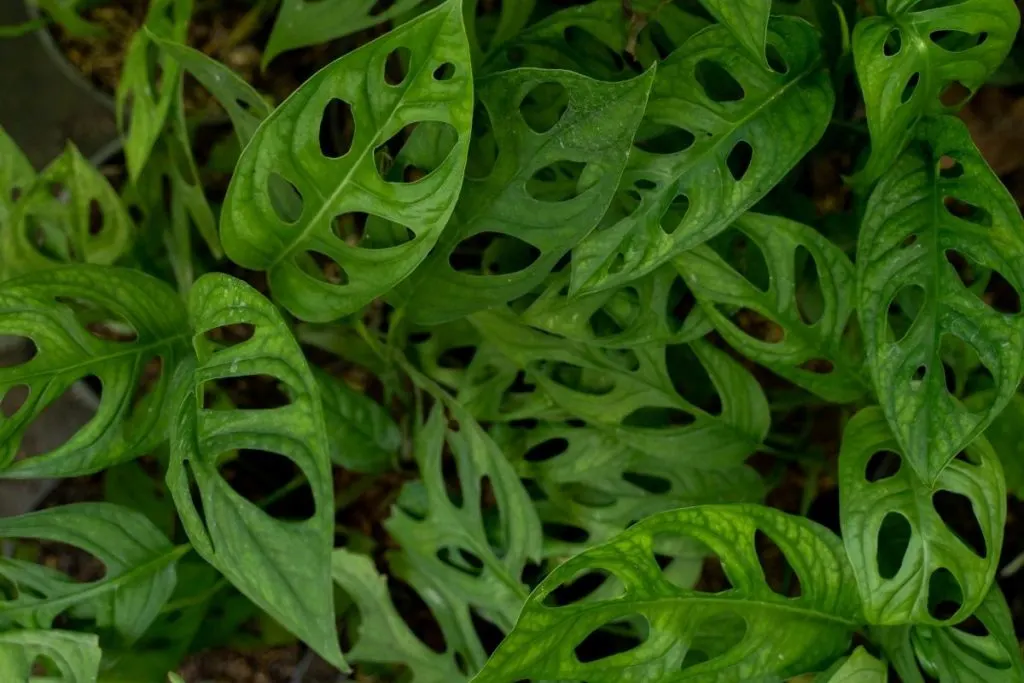 The Swiss cheese plant is one of the most expensive house plants that you'll fall in love with right away! Its hollow leaves are exactly what gives it its wonderful charm. Let's learn all about this plant below.
Light conditions
They don't need much light to thrive indoors. Bright indirect light is the perfect light choice for this plant. Artificial light can also be a good choice if you don't have any kind of sunlight in your apartment.
Soil Type
Perlite and peat moss soil types are the best choices for the swiss cheese plant. It doesn't grow well or healthy in sandy soil. Soil should also be drained well and not acidic. pH ratio should be between 5,5 and 7.
Water Needs
Tap and rainwater are great water types for this plant, but it prefers distilled water the most. The plant is very sensitive when it comes to its watering schedule. Water it on weekly basis once. In the wintertime, you shouldn't water this plant as much as in the springtime or summertime.
Temperature And Humidity
The best temperature ratio for this plant is between 60 and 75 F. Below and above-recommended ratio temperatures can cause a plant to look droopy. Humidity levels should be around 50 to 60%. If you can't provide that, an air humidifier should be an option.
Fertilizer
Fertilizer as the one with an NPK ratio of 6-12-6 is the best choice for the swiss cheese plant. Liquid fertilizers aren't suitable for swiss cheese plants.
Propagation
Propagation is easily done with stem cuttings and root division. It's done the same as with all the plants above.
9. Lucky Bamboo And Its Trailing Vines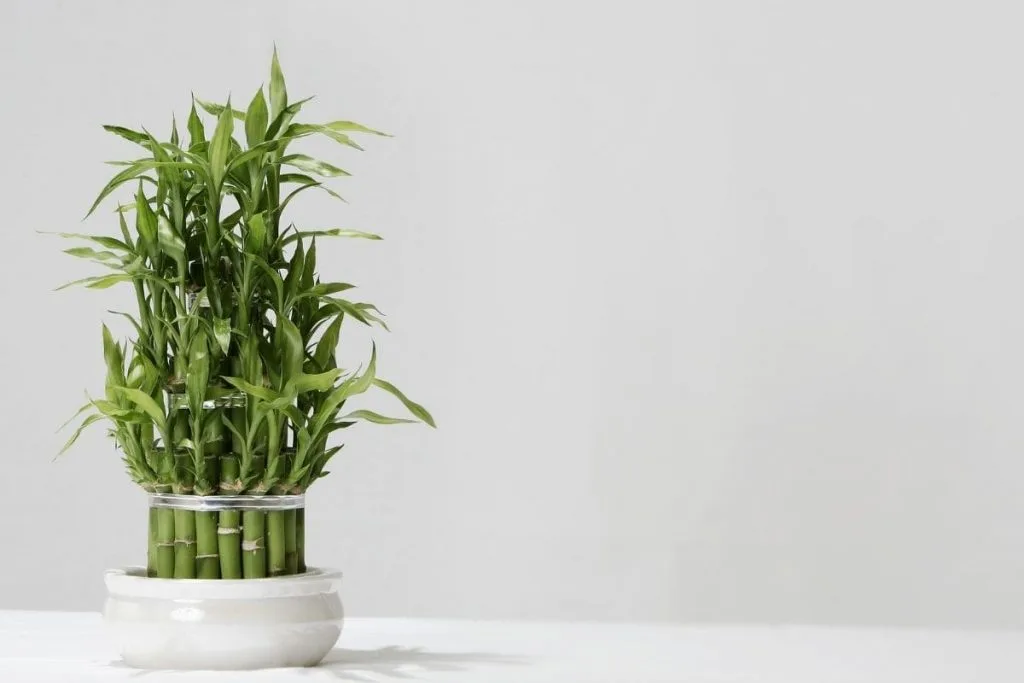 What's prettier in a home than a bamboo tree? I can't think of anything else. However, these lovely plants have some problems such as lucky bamboo turning yellow. In order to avoid that, let's learn their care guide a bit better.
Light conditions
Lucky bamboo prefers bright indirect light, but by no means direct sunlight, that is too much sun. It would be ideal if you can place it in a bright place out of direct sunlight, or indirect sunlight near a sunny window.
Soil Type
Perlite and peat moss are the best soil choices for most bamboo plants. Soil should also be rich in potting soil. You can also put a couple of rocks in the pot.
Water Needs
Pay attention to the freshwater you give to this plant. Lucky bamboo is very sensitive to various chemicals that can be found in tap water and can also be found in bottled water. Make sure you always give your plant distilled or purified water.
Temperature And Humidity
Bamboo is not suitable for a room that is too hot or too cold. It thrives best in rooms where the temperature is between 65 F and 90 F. Humidity should be around 50%.
Fertilizer
They can grow for years without feeding them at all. In addition to yellowing the stem, excessive fertilizer can lead to yellow leaves. If you want to fertilize this plant, then make sure that this fertilizer is intended for lucky bamboo.
Propagation
Stem cuttings are the easiest way to propagate bamboo plants. Using sterile scissors, cut new shoots about 1 inch from the parent plant and place them in a new container with distilled or purified water.
Final Thought On

Fast Growing House Plants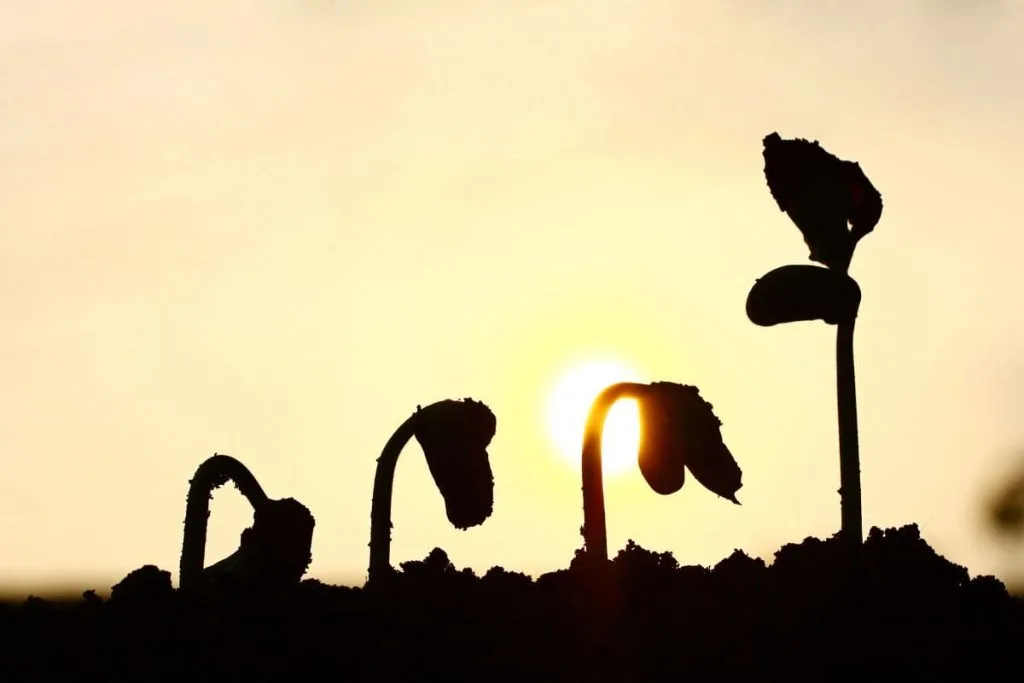 And just like that, we've come to the end of another plant article. Today we talked about fast-growing houseplants. Since these plants are above that we talked about, you can also check the jade plant, wandering jew, devil's ivy, burn plant, tradescantia zebrina, purple queen plant and ufo plant.
These are also great examples of fast-growing indoor plants. Depending on the variety, you'll have a nice green plant in your home between 2 to 5 weeks, how wonderful is that!
Inch plant, up to two feet, heart-shaped leaves, violin-shaped leaves, evergreen perennial, we offered you many choices, you only have to choose now.
That would be all for today, see you soon darlings!