The gardenia bush is a perfect shrub for your garden that you don't even know you need. Do you have unused acid soil in front of your home in your yard? Most of the plants you plant there aren't really thriving well.
Well, luckily for you, these acid-loving plants thrive perfectly in acidic soil. Add soil moist when you're planting gardenias too and you'll have a garden full of gardenias in the early summer.
Rarely do people choose indoor gardenia since their flower buds desperately need full sun. Indoor problems occur such as bud drop, and roots disturbed, and before you know it you're using insecticidal soap or horticultural oil.
Are you ready to learn how gardenias perform outdoors? Do you want to learn how you should treat their fresh and faded flowers? Let's dig in then.
About Gardenia Bush Plant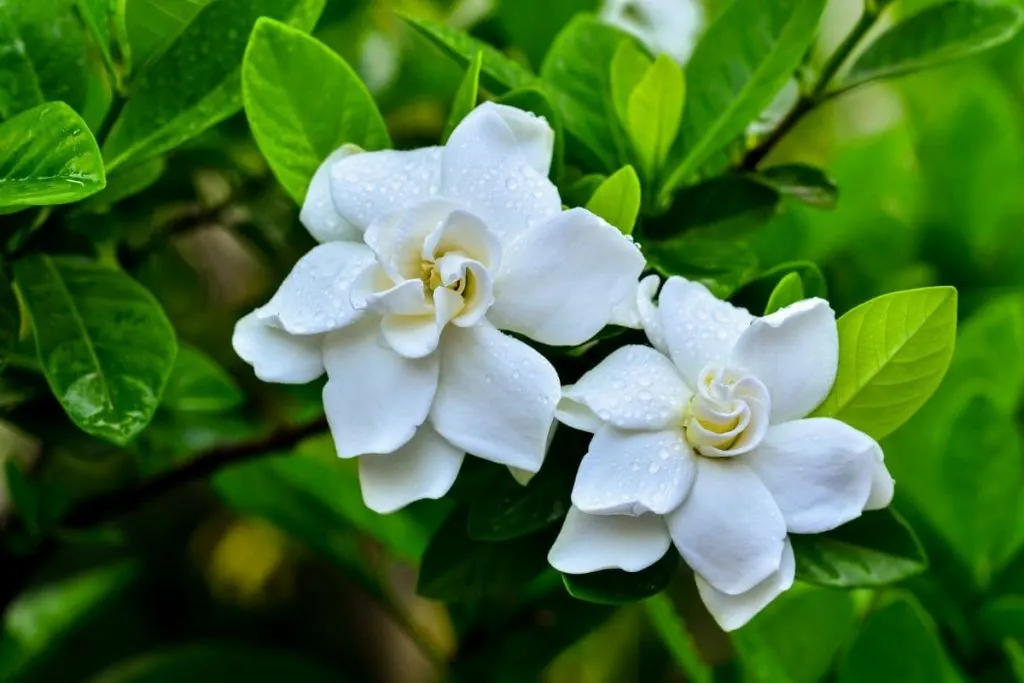 Before we dig into a care guide for a lovely gardenia bush plant, let's see a bit about its appearance. Below we bring you its botanical features, characteristics, and some other info you might use before you start growing it. Let's learn some main things about this amazing colorful plant.
Native habitat: tropical and subtropical regions of Africa, southern Asia
Botanic name: Gardenia jasminoides
Common names: cape jasmine
Leaf color/shape: opposite, oval, or narrow
Flower color: red, pink, yellow, white
Toxicity: toxic to dogs, cats, and horses
Care Guide For A Gardenia Plant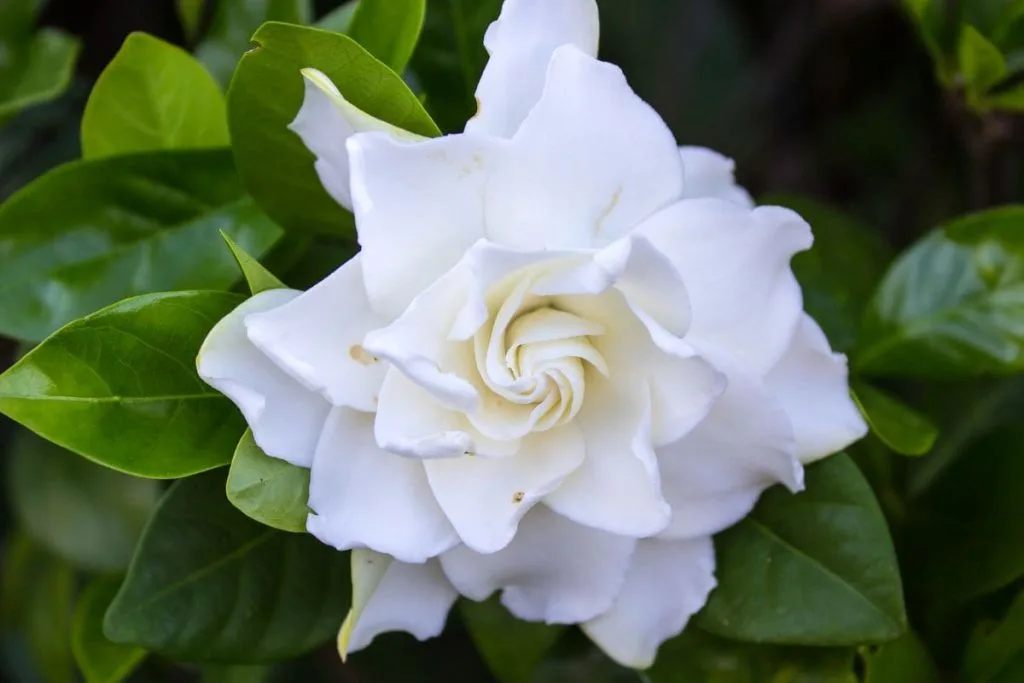 If you're planning to plant gardenias in your garden next spring, let's learn about them in detail. Below we bring you a simple care guide for the gardenia bush plant.
What Are The Light Needs For Gardenias?
It is best to plant your gardenia plant in a location with plenty of direct suns in the morning and shade in the afternoon. If you grow it inside, let it be a south or east window.
In complete shade, i.e. without direct sun, it will certainly not grow properly. If you lack light in your home, decide on the best plants for an office with no windows then.
How To Water Gardenias?
Gardenia needs to be watered with lukewarm water every 7 days. Feel free to increase the watering a little in the summer. Every time before watering again, wait for the surface layer of the soil to dry (golden finger check).
You can spray the leaves in high heat, but pay close attention to their flowers, which could change color from the water. It's very easy to learn how to flush plants without overwatering them.
What Soil Type To Choose For Gardenias?
Gardenia likes acidic soils rich in humus. At the initial planting, you can immediately add organic matter or wait for spring. It is quite adaptable to the type of soil and will not grow in soil that is not acidic.
What's The Best Temperature For Gardenias?
Keep the plant indoors until the temperature outside rises to 55 F. When it reaches 55 F, you can then take it outdoors. When fall arrives, move it indoors when temperatures begin to drop below 55 F. They thrive the best in the ratio between 55 and 70 F.
What fertilizer To Apply On Gardenias?
During the flowering period, feed it twice a week with nitrogen fertilizer. It does not like water fertilizers as well as granular fertilizers. In autumn and winter, we do not recommend fertilizing because it is quite useless.
How To Perform Pruning On Gardenia Plant?
Gardenia pruning is very simple. Get sharp scissors or a knife ready and cut at a 45-degree angle to its twigs to reduce their size. Experienced gardeners also recommend cutting branches with minimal damage to promote growth.
How To Propagate Gardenias?
Gardenia can be propagated by cuttings and seeds. When propagating by cuttings, always choose mature plants.
In order for the cuttings to develop well, it is best to cover them with transparent film. This is how you achieve that air humidity and a suitable temperature for growth are maintained.
It can also be grown from seed, but the process is much more complicated. The seeds must be fresh, otherwise, germination is questionable.
More Useful Information About Gardenia Bush Plants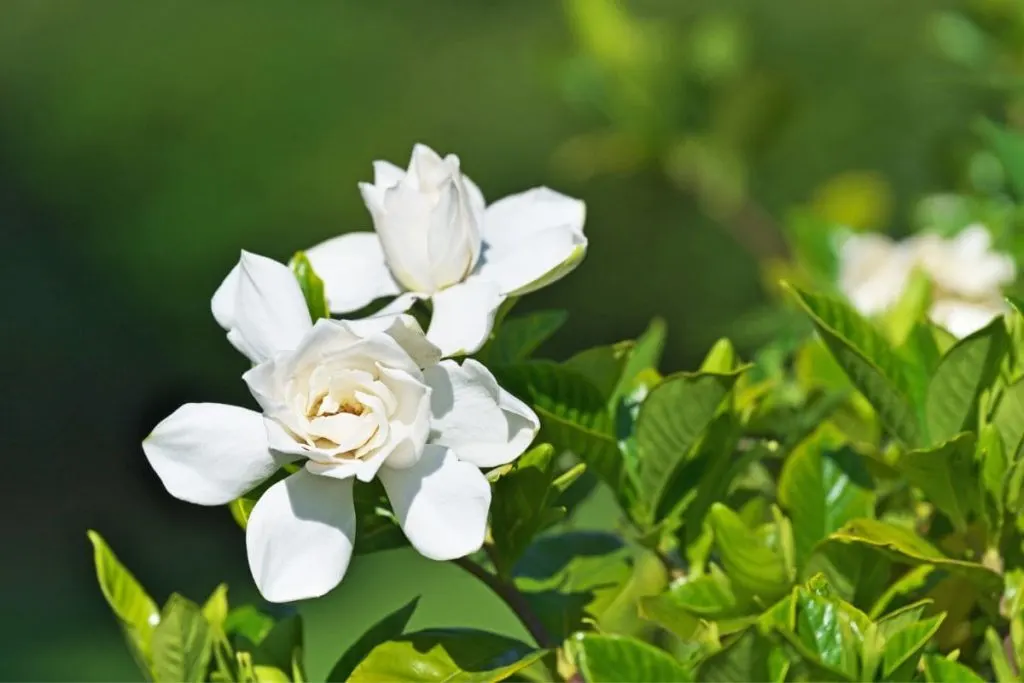 You might be able to perfectly perform the care guide of the gardenia bush after reading this above. But what about other things? We still didn't answer some questions that people sometimes wonder and ask.
We don't want to leave you uninformed, so, let's truly learn all about this garden plant below. You'll find some information that will come in handy soon as you plant a gardenia bush in your yard.
Where Is The Best Place To Plant A Gardenia Bush?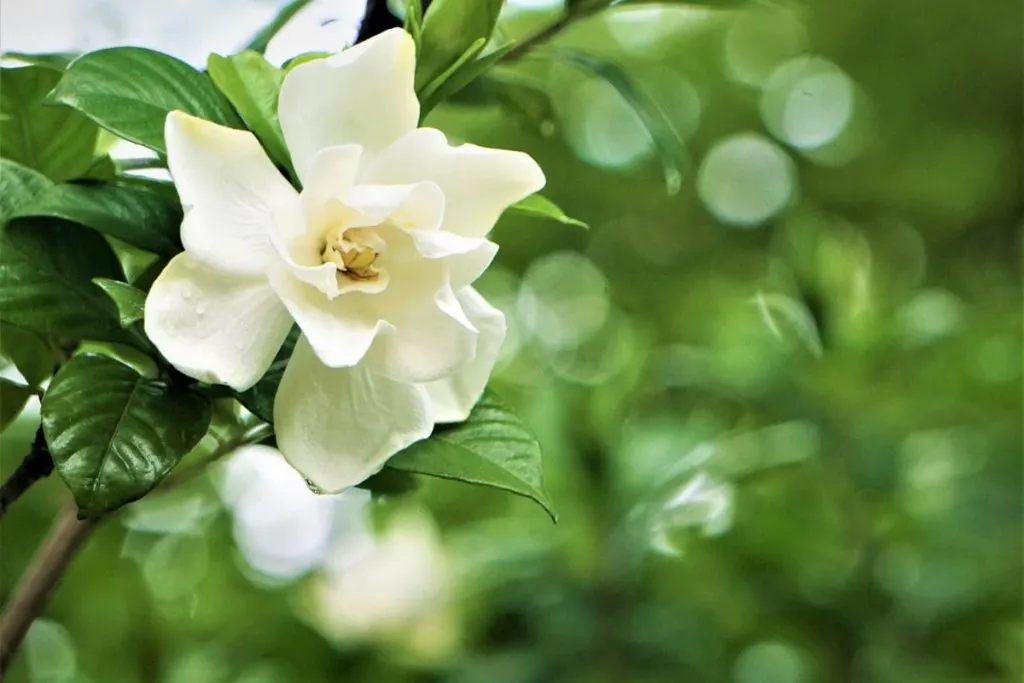 It's best to plant gardenia jasminoides/cape jasmine in a location with lots of morning sun and afternoon shade. They are very needy about their planting site, so make sure you do this right.
You can plant them directly into the ground or in a large container. So far, it is established that they grow better in containers.
This applies especially for the winter time when the night temperatures are much lower. When growing indoors, low-humidity rooms can affect their growth a lot.
People usually buy an air humidifier to increase humidity. Higher humidity is a must, especially during flowering time for the blooms.
Do Gardenias Grow Well In Partial Shade?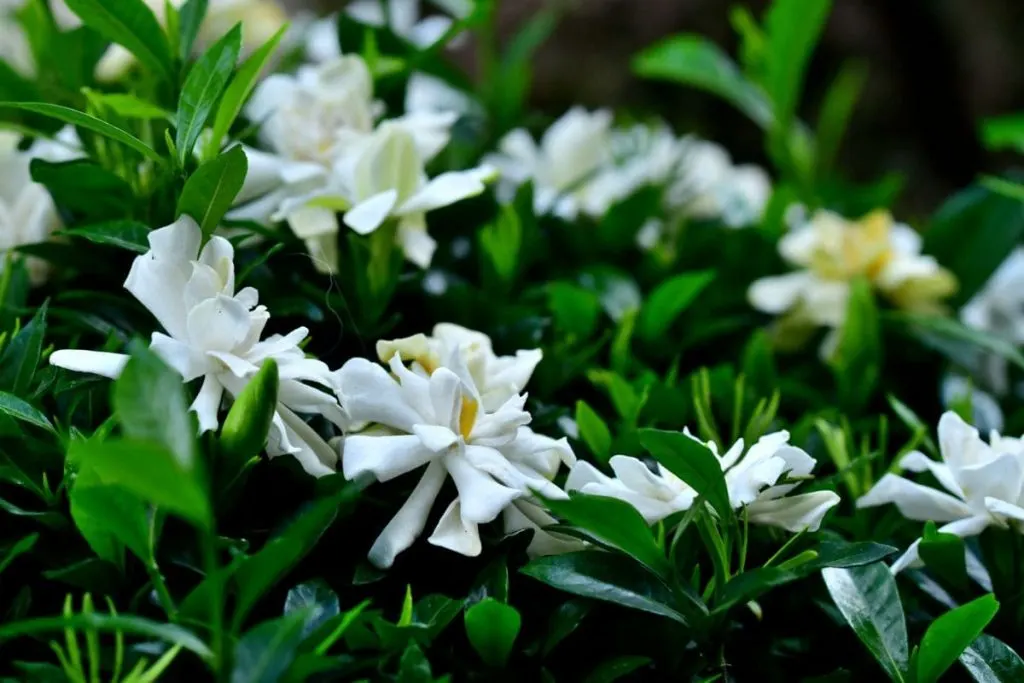 Partial shade combined with morning sun is the best location for the gardenia bush. Add aged manure and moist soil to it and you have a perfectly healthy and thriving gardenia bush. Don't ever grow them in full shade position. You will notice right away how a full shade affects its leaves.
Do Gardenias Come Back Every Year?
Most gardenias come back every year. You should take care of them correctly in case you expect this to happen. However, you'll know for sure in the springtime. They might skip flowering time for a spring or two after a harsh winter.
How Big Do Gardenias Get?
Its maximum height is around 8 feet. It originates from Asia (mostly Southeast Asia). Today we can find it all over the world because it is a beautiful decorative house and outdoor plant. Flowers remind me of rose flowers.
Do Gardenias Have Fragrant Flowers?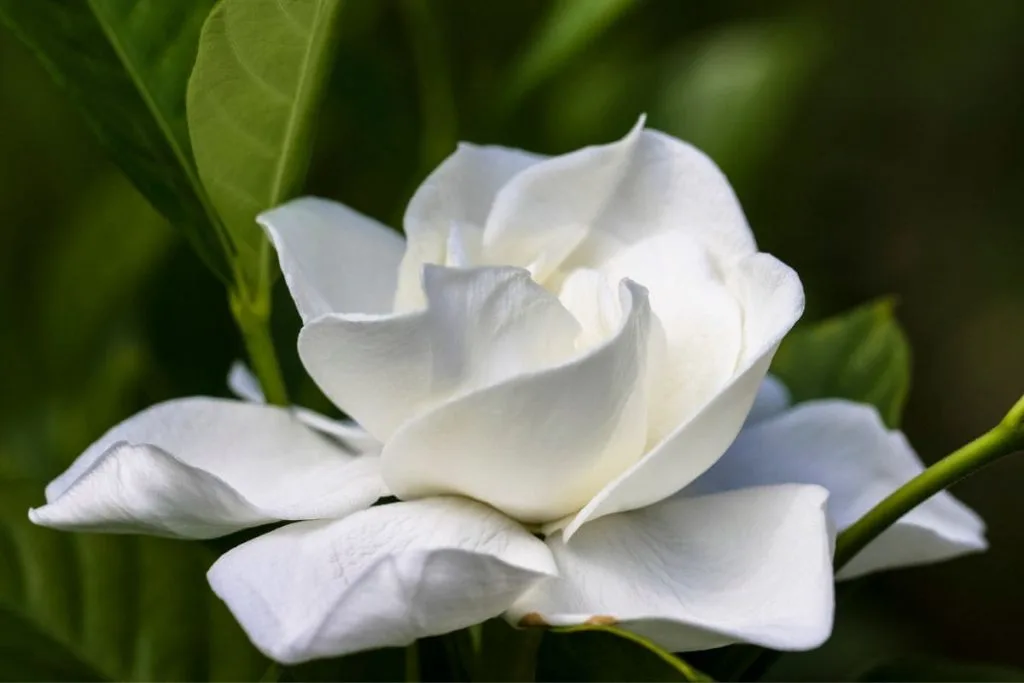 Gardenia flowers are very fragrant. They attract hummingbirds, butterflies, bees, and moth pollinators. White flowers are also a good target for pollinators. When there is much wind outside, they pollinate less. That is why it's good to keep your garden a bit protected in the garden.
Another white beauty for your yard is the Sandankwa Viburnum.
What Does A Gardenia Bush Look Like In The Winter?
Its leaves are usually brown in the winter. If it has lots of contact with frost and snow, it can wind up black eventually. If you're thinking about green leaves, unfortunately, you won't get them from this plant. This plant will perfectly change through all seasons and you'll be able to notice it.
Is Gardenia Bush Perennial?
Gardenia is one of the perennials that bloom all summer. This perennial plant will give you flowers for as long as it can, but it will start browning as soon as autumn occurs. It is named among the most beautiful perennials due to its amazing colors and flower shape.
Wrapping up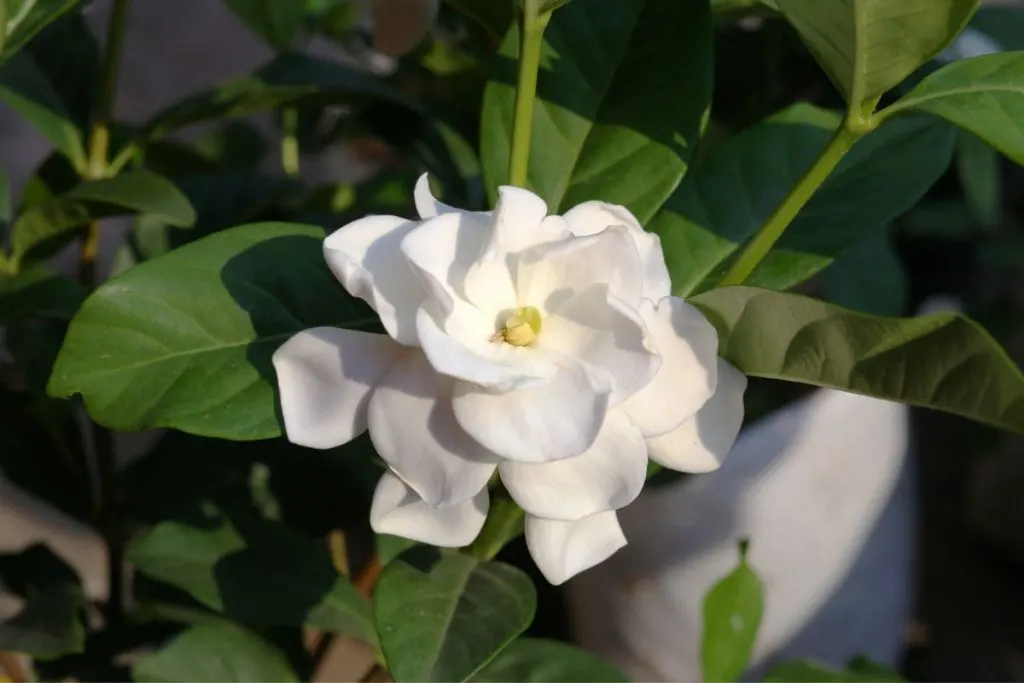 Today we learned how to treat dark green leaves of gardenia bush flowers. Gardenia care is very simple as you could notice. Should we sum it up once again?
Soil dry-big no! Cut flowers that are faded after their blooming season. Apply organic matter in the springtime to your plant.
Partial sun and partial shade in the afternoon, and direct sun in the morning. In rare cases of growing indoors, apply wet pebbles for high humidity.
When translating or propagating from a mature plant, add the rooting hormone. Well-draining soils are crucial for new growth especially. Do not fertilize in the fall and winter time. Avoid cooler areas in its growing season.
Do we know it all for sure now? I hope we do!
That would be all for today, see you tomorrow!