In today's article, we will talk about alocasia types. These are very ancient tropical plants that every plant lover wants or already has in his apartment.
Alocasia is a beautiful tropical plant with various shades of green on its leaves and the bold look of its leaves will add a certain elegance to your apartment.
Today we have chosen for you our 17 favorite alocasia types and we are sure that you will understand why we chose those 17 types for you.
Alocasia Types: Learn More About This Plants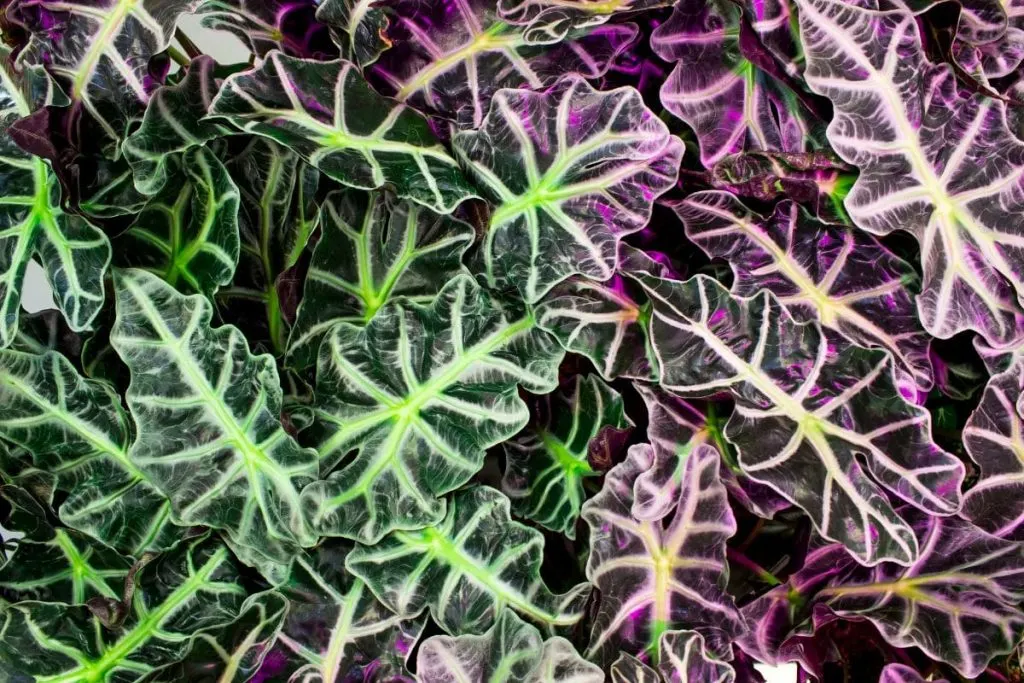 There are many alocasia plants from this plant family. We will not mention all of them today, so just in case you're not very satisfied with the 17 of our favorites, you can always check these types of alocasia plants: green velvet alocasia, African mask plant, alocasia macrorrhizos giant taro, alocasia baginda silver dragon, alocasia cucullata hooded dwarf, alocasia longiloba, alocasia macrorrhiza stingray and many more.
As you can see alocasia varieties are numerous and you can surely find the perfect one for yourself among many of these from its family.
Velvety texture, bright green, dark green, narrow leaves, light green veins, dark green primary veins, prominent veins, light green spathe, wavy edges, silvery green leaves, primary and secondary veins, shiny green leaves, you can choose the best possible version for your home.
You can even choose the perfect leaf shape you prefer the most. Heart-shaped leaves don't work for you, choose a completely different leaf shape then.
Among these, there is a lovely alocasia variety for you and any other alocasia plant lover. Once the plant matures, it will be a perfect plant to have indoors.
These lovely plants are usually found in Eastern Australia, Asia, and some parts of Europe as well.
1. Alocasia Maharani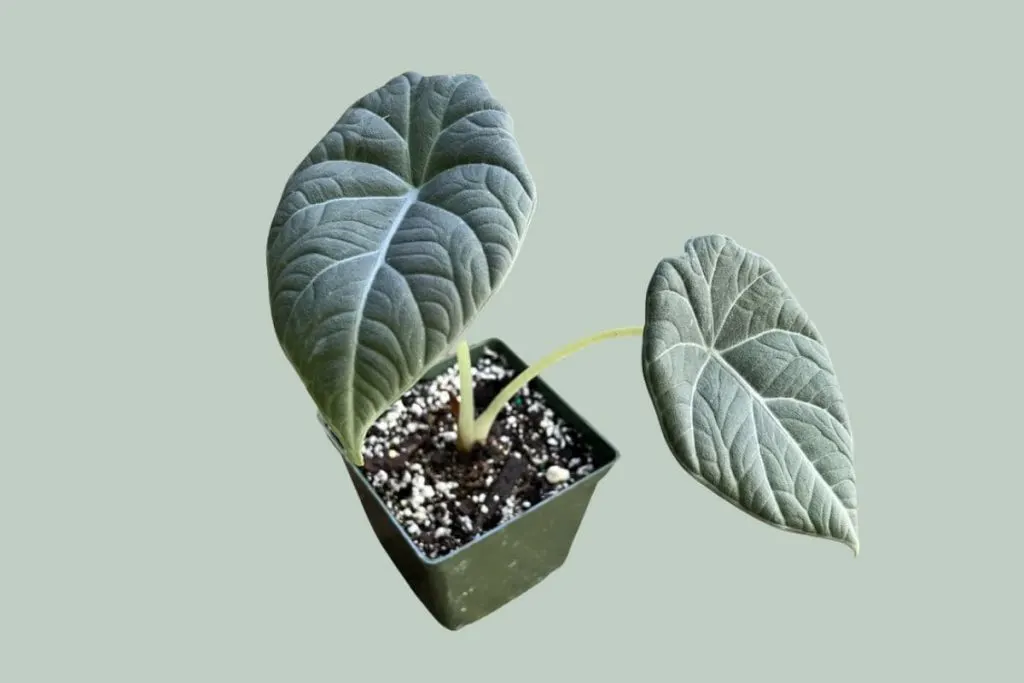 Alocasia maharani, or "gray dragon", is one of the most unusual. Famous for its gray- dark green leaves, Maharani is a gemstone native to the rainforests of Southeast Asia. A popular houseplant, it is easier to grow than its delicate relatives.
This rare allowance is easy to care for and sometimes hard to find due to its striking appearance, but it is definitely worth the effort.
Light conditions
Maharani works best in strong, indirect lighting for a few hours when grown indoors. Avoid direct sunlight as much as possible, especially strong afternoon light, as the delicate leaves of this tropical plant can easily burn.
Soil Type
This allowance requires a well-ventilated, rich, and well-drained soil mixture to avoid excessive watering and root rot. A mixture of potting soil, perlite, and orchid peel is ideal for these plants.
Watering Schedule
The soil should be constantly moistened, but not moist between waterings. This means that you need to water once or twice a week in spring and summer when the plants are actively growing and temperatures are rising. In autumn and winter, you can water less, because the plants need less moisture.
Temperature and humidity
This allowance is native to Southeast Asia and is used in hot and humid environments. Although most houses are dry, Alocasia maharani grows well at room temperature and moderate humidity.
Fertilizer
It is best to regularly fertilize this allowance during the active growing season to promote vigorous growth. Use half a balanced liquid fertilizer once a month, in spring and summer.
2. Alocasia Micholitziana Frydek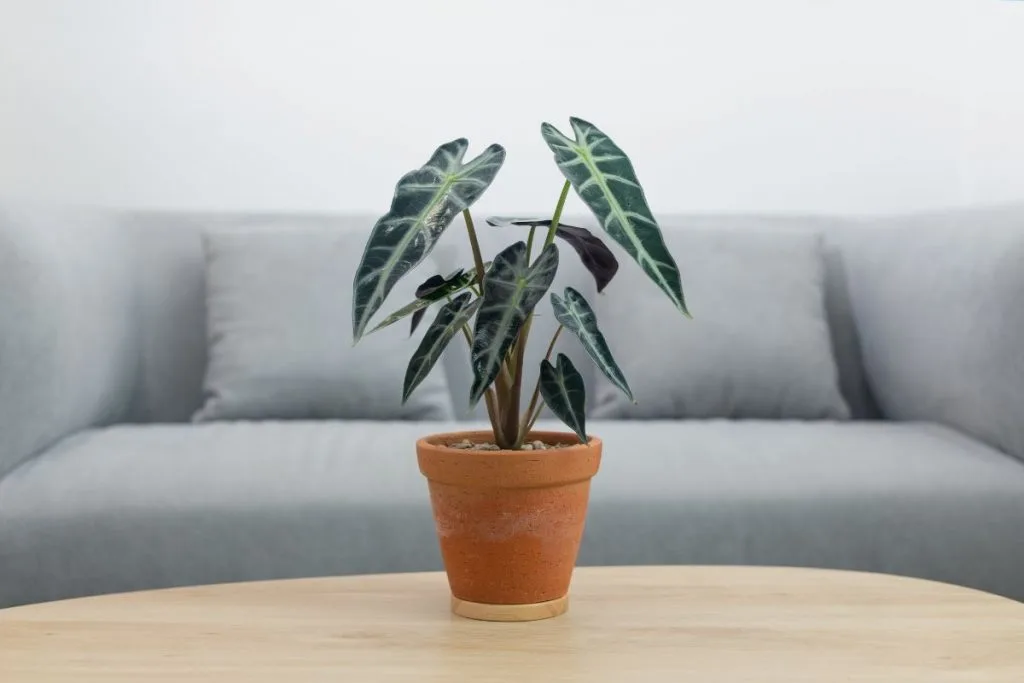 Alocasia Prideeck is a beautiful variety with dark green velvety leaves with white roots. It has grown in popularity over the years and is now commonly grown as an indoor plant indoors, but can also be grown outdoors in certain climates. It has such lovely heart-shaped leaves.
Light conditions
This light green alocasia plant grows best in strong, indirect light when grown indoors and in partial shade when grown outdoors.
Avoid prolonged exposure to direct sunlight, which can burn the velvety leaves. A beautiful place in front of a window facing north or east.
Soil type
Alocasia ply decks are aroids that grow well in well-ventilated, rich, moist, but well-drained potting soil.
Do not use closed potting soil without further fertilization, which will compact over time and suffocate the roots of the plants.
It is ideal a mixture of one part potting soil, one part perlite, one part orchid bark, and one part compost or earthworm compost.
Watering Schedule
The soil should be evenly moist, but never moist. After 1-2 inches of soil has dried, water well to drain excess water from the bottom of the pot.
Temperature and humidity
Alocasia is native to the tropical rainforests of the Philippines and grows in hot and humid areas.
Outside the Philippines, the plants are generally grown indoors, given the temperature and humidity requirements.
Fertilizer
Alocasia prydecks require monthly fertilization in spring and summer when the plants are actively growing.
Use a balanced liquid fertilizer and use it with regular watering. Do not fertilize this plant in autumn and winter.
3. Alocasia Dragon Scale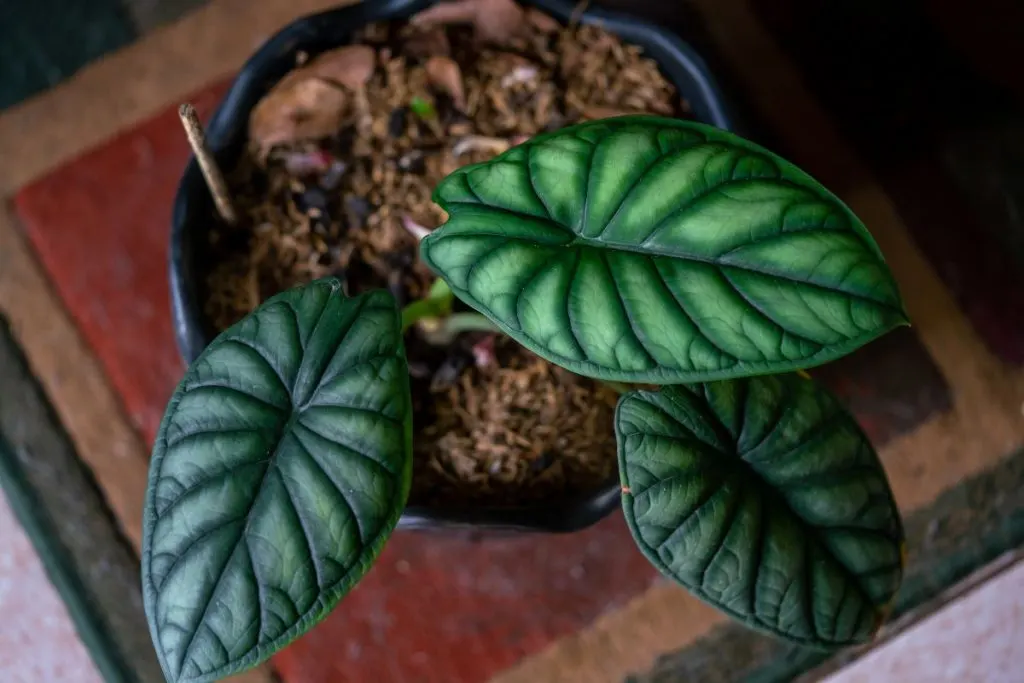 If you are ready to take the game of houseplants to the next level, take a look at the Alocasia Dragon Bowl. This beautiful allotment is loved for its unique, textured leaves that look like imaginary dragon scales.
Light conditions
Accustomed to poor lighting on low forest floors, Dragon Scale Alocasia works well with strong indirect lighting.
Avoid direct sunlight, as it can burn the leaves. Rotate the plant regularly to keep it even on all sides.
Soil type
Dragon Scale Alocasia requires firm, well-drained soil. A soil-free mixture of equal proportions of coconut, perlite, and orchid peel is ideal.
You can also use coconut instead of sandy potting soil. Do not use potting soil directly, as plants are more likely to rot in dense environments.
Watering Schedule
Dragonscale Alocasia should be watered regularly and the soil should not be dry. It is said to be more resistant to lack of regular watering than other types of allowance. Allow the 1-2 inches of soil to dry between waterings, then water well.
Temperature and humidity
Like most allowances, dragon allowances grow in high humidity conditions. The humidity of 60-80% is ideal. It works best in a terrarium or small greenhouse or where there is a small humidifier nearby.
They work well at typical room temperatures of 55F to 80F. Remember that constant exposure to low temperatures can cause plants to become dormant.
Fertilizer
Alocasia is considered a heavy feeder, and dragon scales are no exception. Alocasia dragon scales tropical plants appreciate regular fertilization during spring and summer, in addition to pot mixes with many organic ingredients.
4. Alocasia Zebrina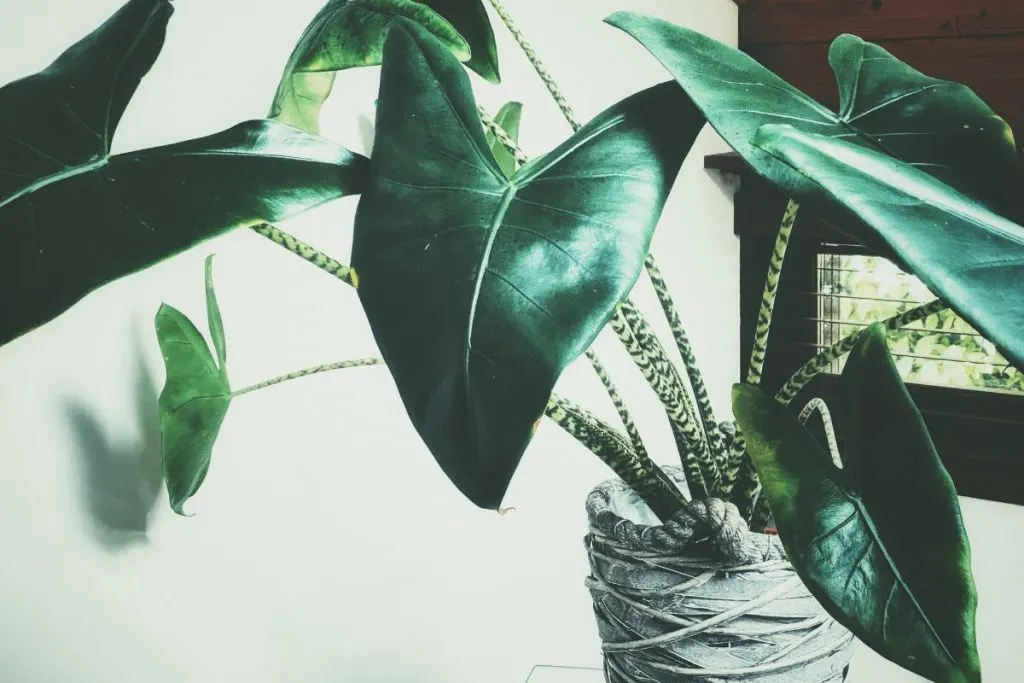 Originally from the Philippines, this tropical wood is popular worldwide as a houseplant but can be grown outdoors in certain climates.
Light conditions
This tropical plant loves strong, indirect light for several hours. If you have windows facing north or east, place a zebra right in front to maximize light.
If you have west or south-facing windows, place the plants a few feet back from the windows to avoid direct sunlight.
Soil Types
There are two things to keep in mind when choosing the right soil. First, alocasia needs a lot of nutrients to grow, and secondly, the roots are prone to rot and do not tolerate wet feet. the
Watering schedule
This allowance should not be left in moist soil but will grow well when the soil dries out. Ideally, the soil should always be moist.
Allow the top of the soil to dry slightly between waterings, then water well to drain excess water from the pot.
Temperature and humidity
Alocasia zebrina works best in warm, slightly humid conditions, but also works well in standard room conditions on the dry side.
This means that if your plant has dry leaves, sharp edges, or fallen leaves, it may need more moisture.
Fertilizer
In addition to mixing nutrient-rich soil, plants should be fertilized once a month, in spring and summer, with a balanced indoor fertilizer for vigorous growth.
Stop feeding in autumn and winter when the plants are not actively growing.
5. Alocasia Elephant Ears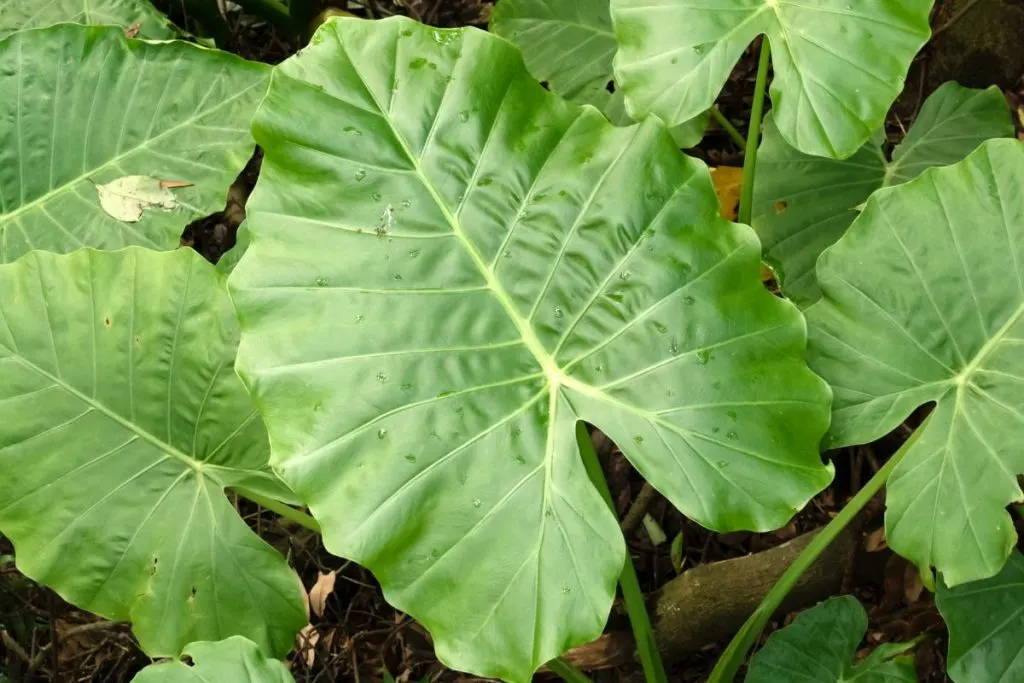 A tropical plant elephant ears of the genus Alocasia have beautiful leaves that can be the centerpiece of your garden or room.
Large roots or tubers create large heart-shaped or arrow-shaped ears, which leads to the popular name of elephant ears.
Light conditions
Lighting requirements range from shade to full sun, depending on the species and variety. Check with the grower or retailer to see if the plant has been trained in the sun.
The color of the leaves is generally better for plants that grow best in more light. Most Alocasia species thrive in the shade but often prefer bright, filtered sunlight.
Soil types
Plant elephant ears in loose, well-drained potting soil or fine clay soil. Prefers slightly acid soils that are provided with peat-based potting soil.
Watering schedule
Keep Alocasia plants moist throughout the year. They are water-loving plants. This plant has fine lines. Keep the soil moist, but not moist.
In winter, the plants need less water because they are dormant. Allow a few inches above the ground to dry before watering. This helps keep the soil evenly moist.
Temperature and humidity
Elephant ear plants grow below 60 degrees Fahrenheit. Some species die in cold weather and grow back from the roots. They need a very humid environment and grow well.
Fertilizer
Alocasia can be a heavy feeder, especially a large one. Feed liquid fertilizer once or twice a month. During the vegetation period, the 20-20-20 formula is recommended.
6. Alocasia Black Velvet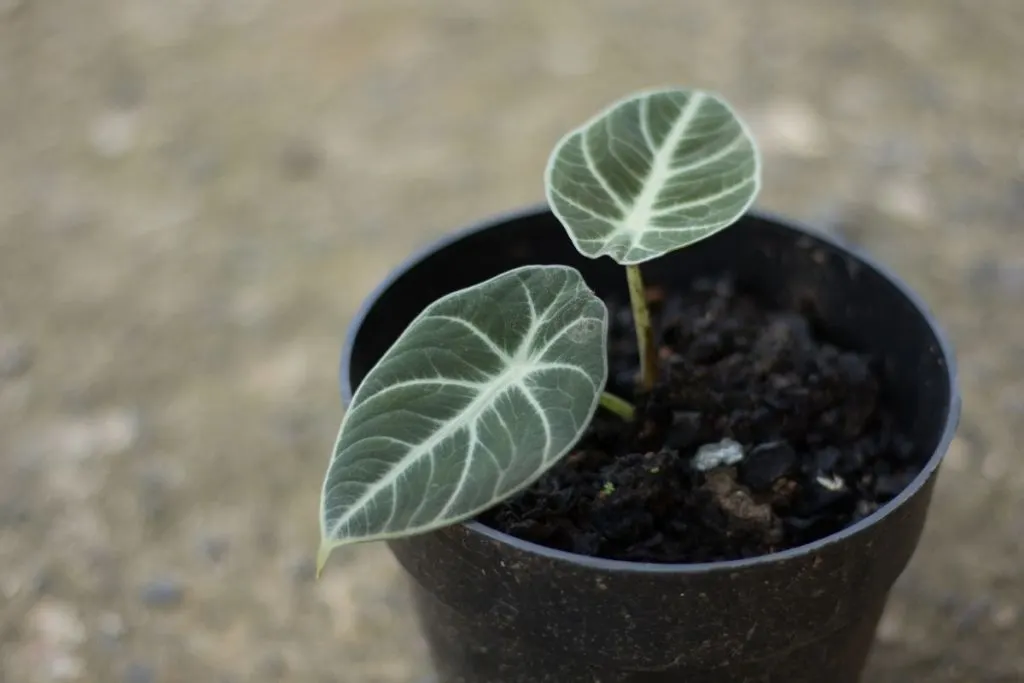 Alocasia Black Velvet (Alocasia reginula) is the perfect foliage plant to make a big impression in a small space. Most plants of the genus Alocasia are known for their large, tropical-looking, heart-shaped, or arrow-shaped leaves.
Light conditions
Unlike some larger Alocasia types that can be trained to cope with the full sun, Black Velvet thrives in mottled, bright but indirect light, like tropical jungle soil. North or east-facing windows work well unless the morning light is too strong.
Soil types
Choose a loose, well-drained compost, as consistent moisture is key to the success of this plant.
Root rot is a common problem, so it is advisable to choose a tropical mixture containing bark, sand, and clay. It is best to avoid those that are rich in absorbent peat moss and coir.
Watering schedule
The basic rule when caring for Alocasia Black Velvet is not to leave it submerged. Wrong watering schedules are one of the main reasons these plants die. Watering and wet feet inevitably lead to root rot.
Temperature and humidity
As expected of tropical lowland plants, Alocasia black velvet requires high humidity and warmth to thrive. Draft, cold winter rooms, and dry, air-conditioned environments are not friends with this plant.
They prefer humidity levels well above 50%, so you may need to atomize them and use a gravel tray or humidifier, or grow this compact plant in a terrarium-especially during the winter months.
Fertilizer
Don't expect this slow-growing strain to suddenly act when you mix fertilizer with Alocasia Black Velvet. However, regular but not too heavy fertilization can benefit the plant.
It is usually sufficient to fertilize with a balanced liquid houseplant fertilizer every two weeks to monthly during the growing season.
7. Alocasia Amazonica Polly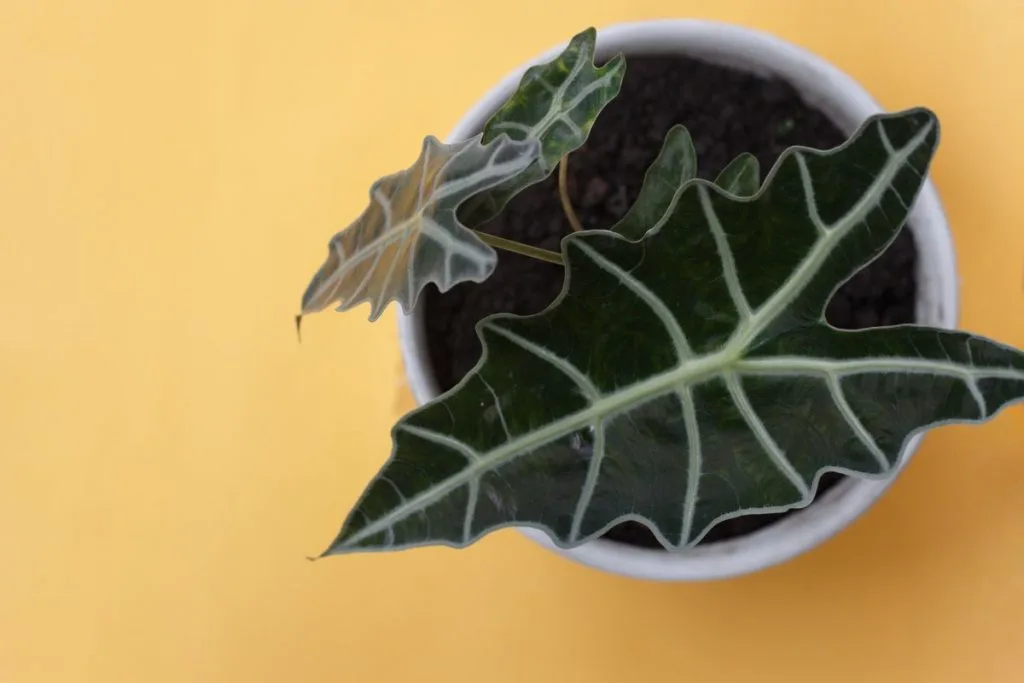 Amazon elephant ears feature dark green leaves accented with whitish or light green veins. The leaves are roughly serrated and in some cases, the color of the leaves looks almost purple-green.
Light conditions
Amazon elephant ear plants require a lot of bright indirect light. They can survive in 80 percent shade but prefer about 60 percent shade.
This guarantees you the best growth and rich green shades of leaves. Be careful not to expose the plants to strong direct sunlight. This can cause the leaves to bleach or burn.
Soil type
This plant prefers well-ventilated potting compost. Ideally, organic, loose soils rich in peat moss. If the soil mixture is too heavy, it can be lightened with sand or pearlite.
Water schedule
Keep the soil moist, but keep in mind that Amazon elephant-eared plants don't like wet feet. If possible, water the plants from below in the morning to prevent the leaves from getting too wet.
Plants require dormancy during the winter, so allow the soil to almost dry during those months and water. However, when completely dry, the plant can go dormant.
Temperature and humidity
The ears of the Amazon elephant, a tropical plant, are dormant or die when exposed to low temperatures. I like to live in the same climate as original Southeast Asia, with temperatures ranging from 65 F to 70 F. In addition, plants love above-average humidity.
Fertilizer
Amazon Elephant Years tend to munch violently during the growing season and respond well to the application of diluted and balanced fertilizers. Fertilize every two weeks from early spring to the end of August.
8. Alocasia Silver Dragon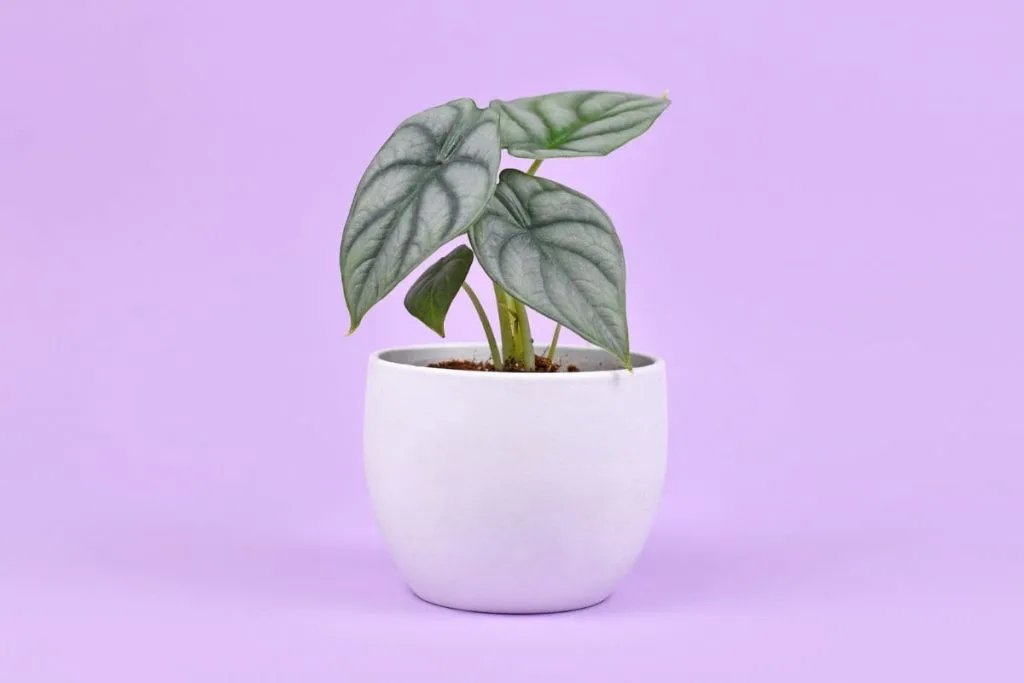 This silver beauty will leave you breathless. Its tropical silvery-green foliage is something you have to own in your home. Learn more about it below.
Light conditions
Alocasia Silver Dragon works best with bright indirect light. Do not expose this plant to too much light. It will burn the leaves. Choose a location where the bright afternoon sun can take hours. Plants can work well in moderate light conditions, but will probably grow more slowly.
Plants may not generally look so happy. If you notice this is happening, give it a little more natural light or add some growing light.
Soil type
You can plant a silver dragon in well-drained potting soil. Look for one labeled "Houseplant".You can also add a handful of extra coir, which is a good alternative to non-renewable peat.
Watering schedule
Extra cocoa fiber helps drainage and water retention without over-wetting the soil. It brightens things while ensuring that the plant gets the water it needs.
Temperature and humidity
Silver dragons work well at different home temperatures. But that's not difficult. Therefore, if you live in a place with four seasons, be sure to bring this plant indoors in the fall and winter. Keep the temperature as constant as possible.
For example, do not use heating coils or AC coils. This can lead to increased drought as well as temperature fluctuations. Because the Alocasia silver dragon needs a lot of water. We aim to have higher humidity than at home, that is, 70% or more. The more it is, the better.
Fertilizer
Use sustained release fertilizer premixed with soil.
9. Alocasia Regal Shield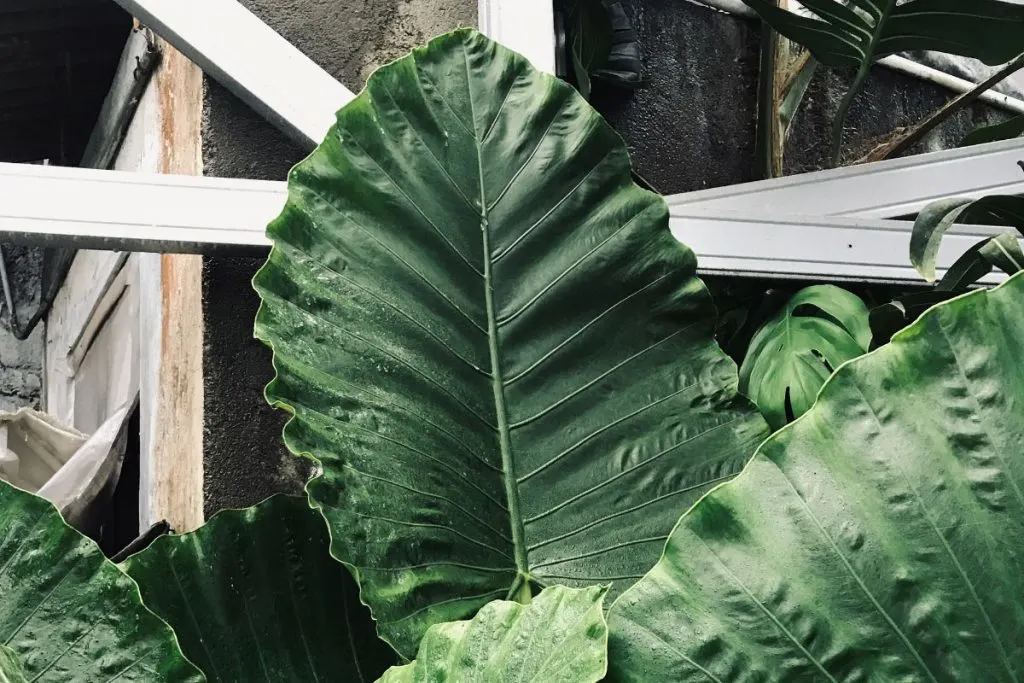 Another elephant ear alocasia variety. This is a low-maintenance plant and you'll be more than thankful to have it in your home.
Light conditions
Outdoors, she enjoys bright shades and can withstand the sun. I have mine on a covered patio. It's mostly in the shade, but there's mottled light between the decks above. If the direct sunlight is too strong, the leaves of the plant will be completely burnt and irreversible.
Soil type
Soil is an important part of Alocasia Regal Shield Care as it helps to ensure its root health. It also affects irrigation. If the soil is too dense, it will be too moist and the roots will suffocate.
Water schedule
The best time to water the Royal Shield is when the top inch of soil is dry. Indoors, we usually check the taro soil for a few weeks until we know the proper watering schedule.
Temperature and humidity
Regal Shield works well at different home temperatures. Do not expose plants to temperatures below 65 F indoors or outdoors. It doesn't satisfy you. When the temperature in the room drops in winter, the plants become dormant.
Elephant ear plants love moisture. Therefore, it is ideal for summer and spring outdoors in humid areas. We are talking about humidity above 70%, which is fairly normal in Maryland's summer outdoor humidity.
Fertilizer
Fertilizer for indoor plants (liquid one or hummus) works great for the regal shield plant.
10. Kris Plant-Alocasia Sanderiana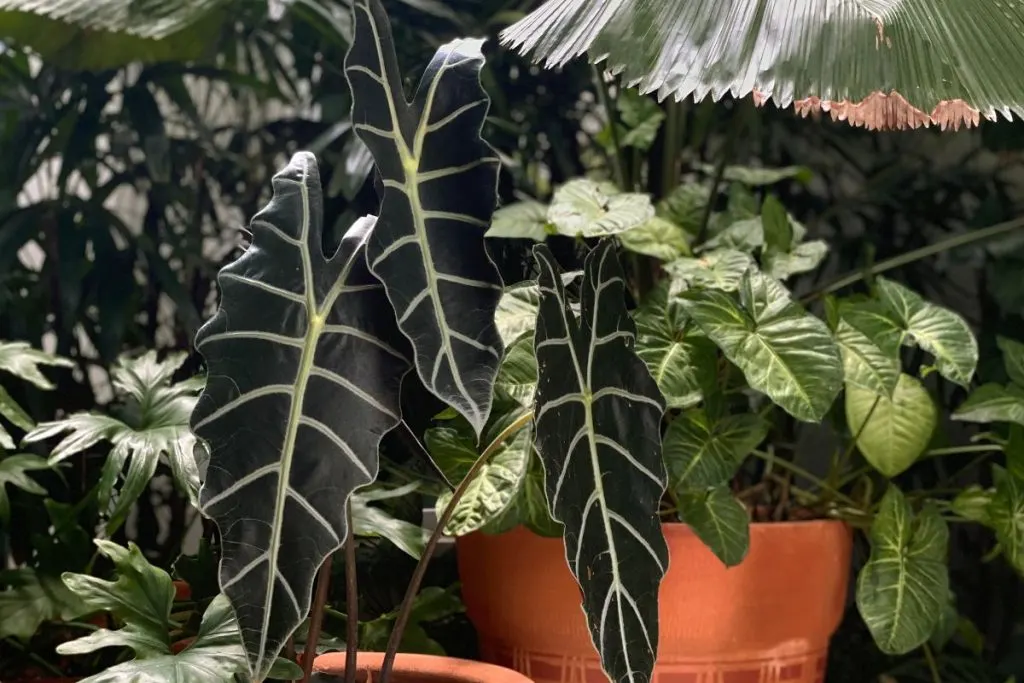 Arrow-shaped leaves with pale green leaves and white pores are a must for every home. To be sure you're taking care of it right, read more below.
Light Conditions
Indirect light works the best for the Kris plant. North facing window is the best option for this tropical beauty.
Soil Type
Your Kris plants may bloom, but those flowers are not particularly flashy and these plants are more appreciated for their leaves. Best growing conditions for Kris plants Plant the Kris plant in a well-drained, loose soil container.
You can also use two parts of Saintpaulia mix, or potting compost, which is an equal amount of coarse sand or a mixture of pearlite, peat, and potting compost. It grows with plenty of bright indirect light, so it grows in windows that are not exposed to direct sunlight, such as windows facing north or east.
Watering schedule
Kris plants grow naturally in the tropical jungle and require a certain amount of water in the soil. The key to keeping them happy is to make sure that the soil is evenly moist, as the plants can die fairly quickly if the soil is completely dry.
However, be aware of the soil during the spring-autumn transition, as slower growth in winter may require slightly less water for Kris plants.
Temperature and humidity
As you can imagine, Kris's plants benefit from high humidity. Place the plant in a tray of pebbles filled with enough water so that the pebbles raise the bottom of the pot above the waterline.
You can also consider grouping tropical foliage plants that prefer moisture. This helps create a moist microclimate in the space.
Consider running a humidifier near them to create optimal conditions, especially for dry months. The temperature range should be between 65 and 70 F.
Fertilizer
Kris is given a semi-solid liquid houseplant fertilizer 3-4 times a year.
11. Alocasia Melo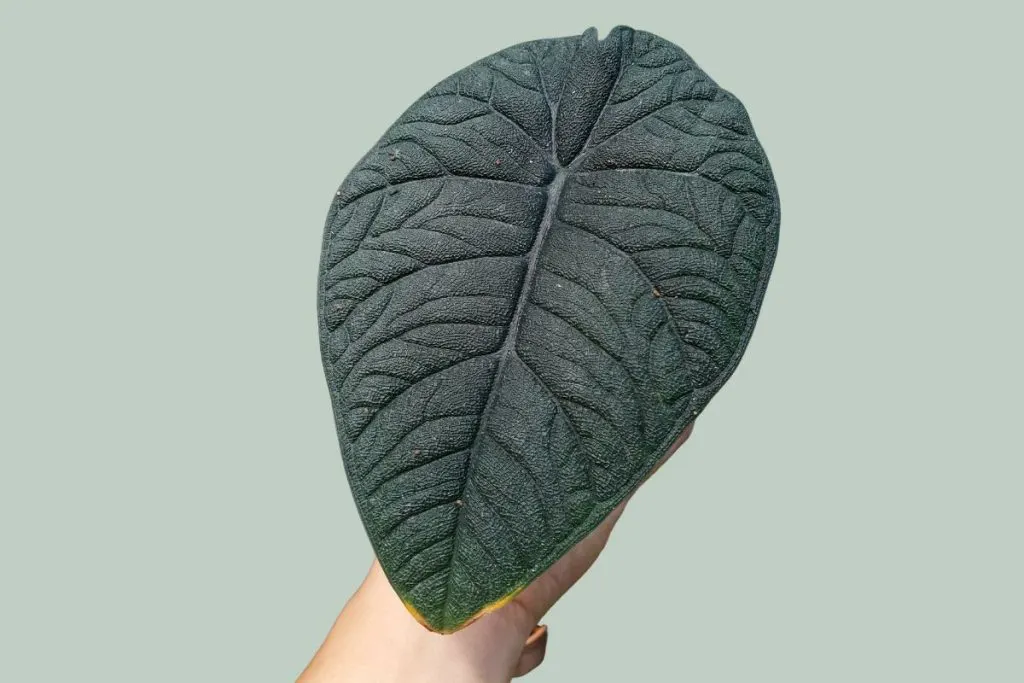 These plants like to live around stones and if they're grown as indoor plants, put some small stones around their
stems. Thus, they do not like a lot of water to reach their roots. But of course, there's so much more due to its care guide.
Light conditions
Thick jade green leaves choose a partial shade for bright indirect sunlight. Importantly, people usually misunderstand leaf thickness for its ability to withstand direct sunlight. The direct sun can burn the leaves. Therefore, do not expose the plants to direct sunlight.
Soil type
Alocasia Melo plants require well-ventilated, well-drained soil. Consider a mixture of peat moss and sandy loam.
Watering schedule
When the top 2 inches of soil have dried, water the plants moderately. To help with watering, we always share an estimated schedule. 2-3 days is enough for spring and summer. However, the water requirements of most plants decreased on cool days.
Temperature and humidity
The optimum temperature for plants is 60-65 F. Temperatures below 60 F disturb this cold-sensitive plant. Therefore, it is always advisable to move to a warmer place when autumn comes. Similarly, above 65, 70 F C, the leaves do not look healthy.
Humidity requirement In general, your meros likes humidity. The ideal humidity level is about 75% during the day and about 95-100% at night. You need to pay attention to the humidity in the area.
Fertilizer
During the growing season, a common house plant fertilizer or a native houseplant mix is ​​given monthly. You can simply dilute the fertilizer or use 1/3 to half of the indicated dose. Nevertheless, tough-leaved Alocasia Melo does not require additional nutrition in the fall and winter.
12. Alocasia Boa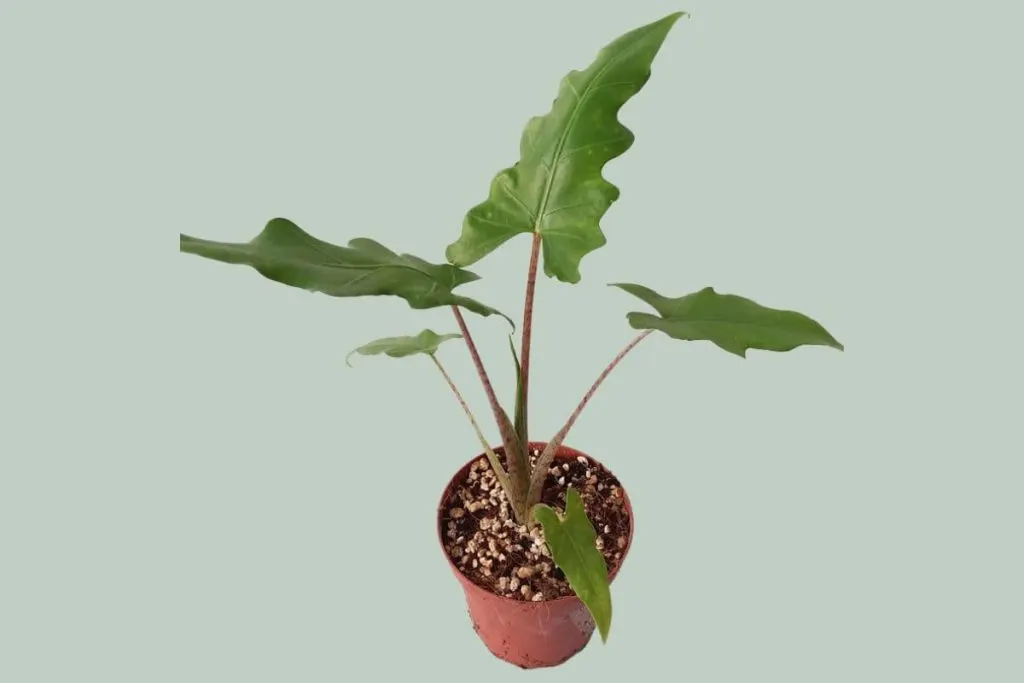 These long leaves are low-maintenance plants. Normal alocasia care is sufficient and is suitable for beginners.
Light conditions
Bright to moderate indirect sunlight is what they need to stay happy. This is what they get under the top of a tree in their natural environment. Direct sunlight should be avoided.
If you don't, you will see the browning of the leaves. In addition, Alocasia Boa does not tolerate inadequate sun, especially for long periods.
Water schedule
The basic watering principles of Alocasia work well here. Soak the soil, wait for the top layer to dry, then water again. The watering schedule depends on factors such as temperature, humidity, and sunlight.
Therefore, to create a watering schedule for Alocasia Boa plants, it is necessary to confirm the drying pattern of the soil.
Soil type
It drains well and requires a thick growth mix. This leaves an appropriate amount of water around the bottom and drains excess water. Also, the roots need to get enough oxygen around them. This is a requirement for good growth.
Temperature and humidity
Suitable temperatures for all members of this genus are 60-75 F. This is simply the normal temperature range of the room. Therefore, the most important rule is that if you feel good in the room, the Alocasia plant will also feel good.
The natural habitat of these plants indicates the need for high humidity. Humidity must be at least 50% to keep Alocasia bores in good condition. In addition, if the water content is 70% or higher, the leaves will be healthy and supple.
Fertilizer
A mild dose of good quality sustained release fertilizer, used three times a year, is a good fertilization schedule.
13. Alocasia Mickey Mouse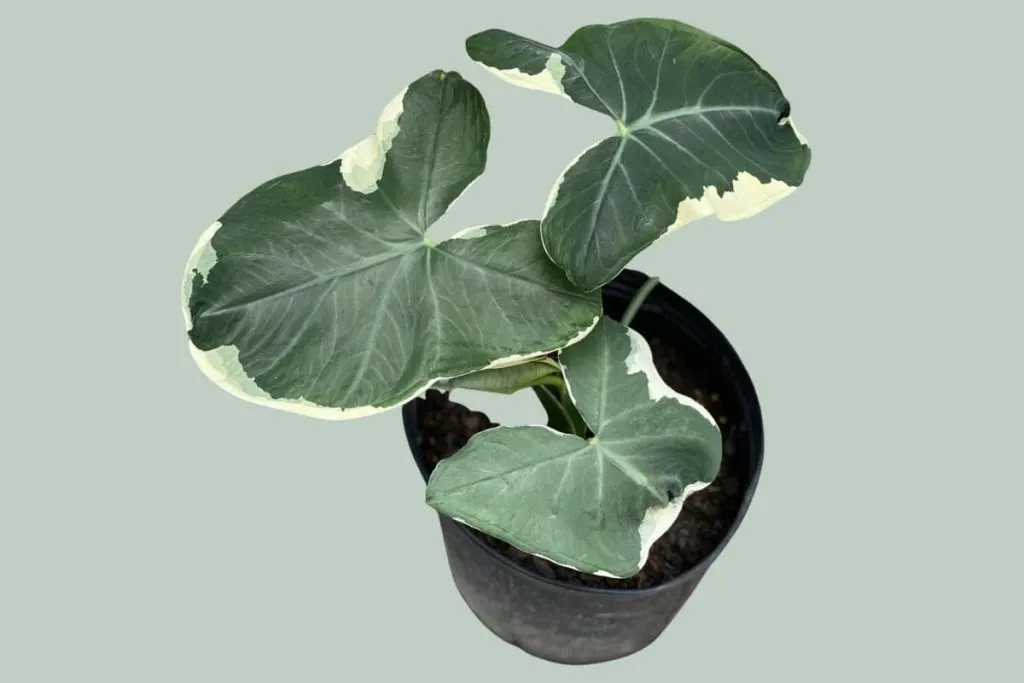 Were you a fan of Mickey Mouse who grew up? Now you have a chance to have a plant with its name in your home.
Light conditions
This peep loves a lot of indirect sunlight. The bright corners near the windows are a great place to place Mickey Mouse Alocasia. Outdoors, you should choose a location that is exposed to a lot of indirect sunlight. Delicate variegated leaves are less resistant to direct sunlight.
Water schedule
the basic watering strategy is to water the soil well, wait for the top layer to dry, and then water it again.
Soil type
Rich, well-drained soil is what they need to grow. If you mix it yourself, use coir and pearlite with common soil.
Temperature and humidity
The ideal temperature range for taro is approximately 55-85 F. Simply put, a comfortable temperature at home is also the perfect place for Mickey Mouse plants. Alocasia comes from tropical countries. This demonstrates the importance of warmth and humidity in these plants. Ideally, the water content of 80% or higher is optimal.
Fertilizer
Large elephant ear leaves love to absorb excess nutrients. A good houseplant fertilizer once a month is ideal for spring and summer. Overeating is harmful to plants, much like watering. Therefore, try to use a mild concentration. Also, stop fertilization immediately after the end of summer.
14. Alocasia Sarian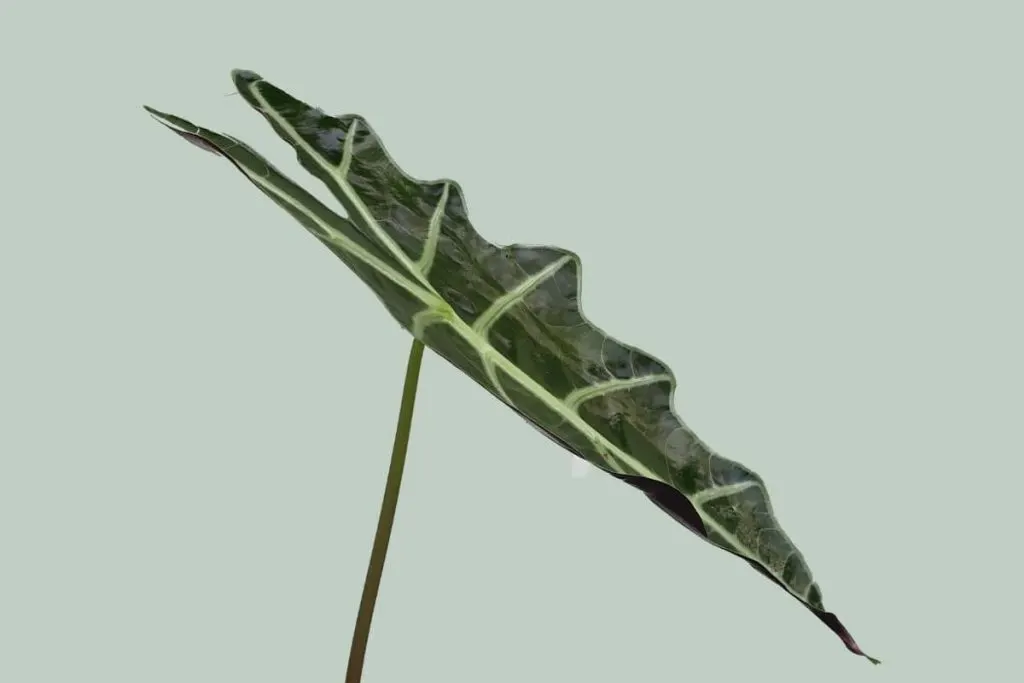 Alocasia sarian is a perennial tropical plant with distinctive large green shiny heart-shaped leaves with white veins prominently running on the leaves. The leaves are thin, cylindrical, and carried upright on tall stems.
Light conditions
These plants require full to partial sun. When specified as a percentage, 80-90% of filtered sunlight is required. For foliage plants, always try to rotate the plant regularly.
Watering schedule
Alocasia and other families are water-loving plants. During the summer and spring, when the plants are growing rapidly, you can water them at least three times a week.
Soil type
The soil needs to be moistened, but make sure the top 2 inches of soil are dry before watering the plants again. Alocasia prefers moist, well-drained soil.
Stone and sandy soils have not proven to be healthy substrates for plants. The recommended soil mixture for growing new plants is equal proportions of soil and pearlite.
Temperature and humidity
These plants do not like temperature fluctuations because they are not temperature tolerant. In winter, it cannot withstand temperatures below 55 F. They love a humid environment. Maintaining proper humidity levels will help keep the leaves fresh and bright
Fertilizer
Use a regular liquid fertilizer for this plant. Don't fertilize this plant more than once a month. Over-fertilizing can damage this plant very quickly.
15. Alocasia Odora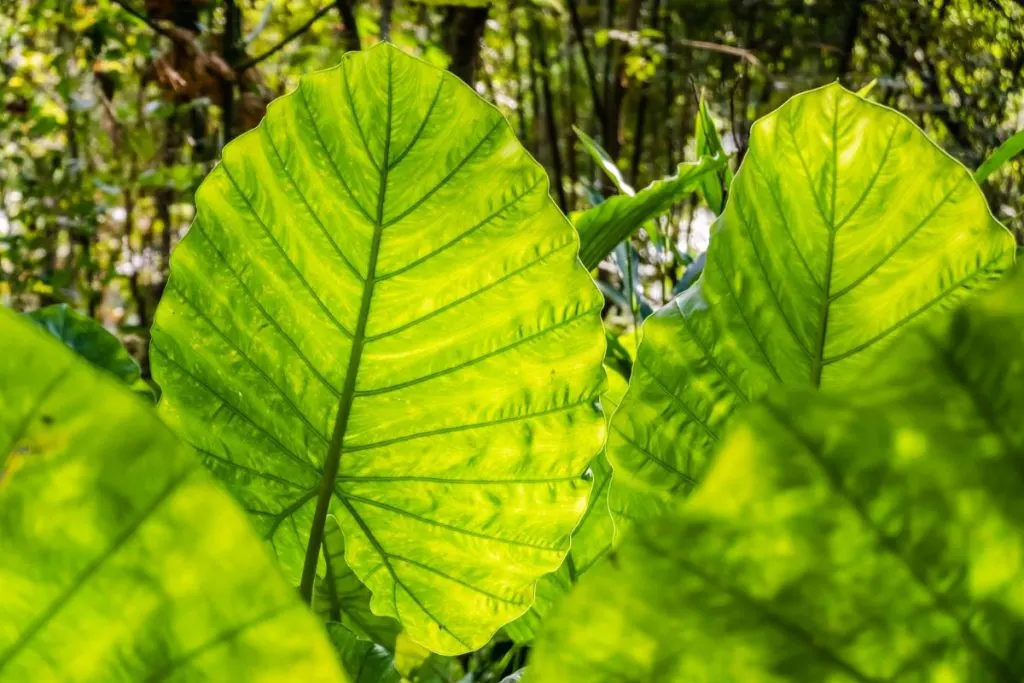 Now, there is a plant of the genus Alocasia, and as soon as you see it, you'll want it in your home! Welcome to Alocasia Odora Variegata care guide.
Light conditions
Light requirements Since this varies from plant to plant, there are no specific guidelines for exposure to sunlight. The ideal is that it depends on the leaves. If the plant has more green leaves than white, your plant should be in a bright place. However, it should not be exposed to direct sunlight, and please select a place exposed to direct sunlight.
Watering schedule
Alocasia odora is a water-loving plant, but there are still some water restrictions that need attention. They don't like to dry, but the soil never gets flooded. The ideal technique is to water them until the soil is completely moist.
Soil type
Ground requirements Alocasia odora Variegata requires acidic to neutral soil with a pH of 5.6-7.5. It should be well-drained and well-ventilated so that it does not retain water for long periods. The texture should not be loamy or too sandy. Recommended combinations are peat moss and pearlite.
Temperature and humidity
Alocasia Odora Variegata prefers warm temperatures. It doesn't work in extreme climates. Plant growth is impeded when temperatures drop below 60 F or above 80 F. As you know, Alocasia odora is a water-loving plant because it grows naturally in the tropics.
Fertilizer
Fertilization should only be applied during the summer and spring growing seasons.
16. Alocasia Mandalay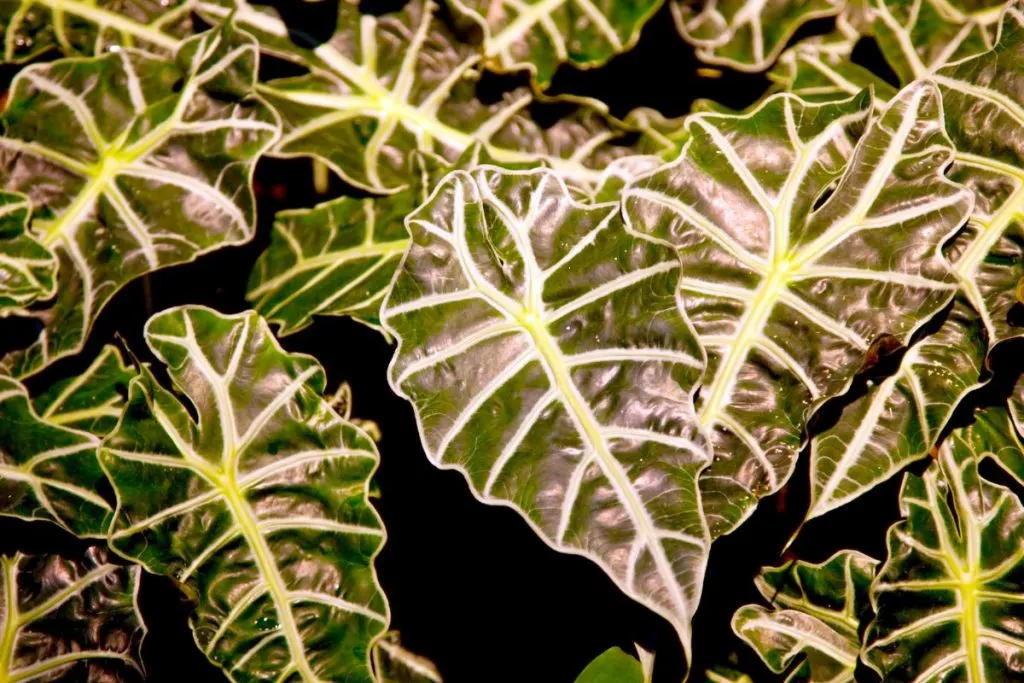 Alocasia Mandalay, the perfect mutant of Alocasia Polly, is a plant with white striped elephant ear-shaped leaves that enhances its uniqueness. This plant has twice as many leaves as its mutant. It is more compact and can form a beautiful wreath.
Light conditions
Alocasia Mandalay thrives in indirect sunlight. Avoid placing Alocasia odora in direct sunlight, as bright sunlight can cause leaf burns. Leaves need sunlight for photosynthesis, so don't take it away from the plant.
Watering schedule
Consider using distilled water as Alocasia Mandalay is sensitive to tap water. When using tap water, leave it for 24 hours before using it. Water it weekly or when the topsoil dries with two fingers.
Soil type
The plant grows in slightly acidic soils with a pH between 5.6 and 6.5. Well-drained, well-ventilated, porous soil should be used. Bog moss or peat moss is an excellent additive to the soil because it moisturizes the soil and helps drain it.
Temperature and humidity
Like other tropical plants, Alocasia Mandalay requires high temperatures to thrive. The optimal temperature requirements are 55-70F. However, be sure to protect your plants from harsh temperatures and heat stroke.
This plant requires little dry soil, but the atmosphere they need is quite damp. Its origin is in the forest, usually standing under a gazebo made of wood. This indicates that the air is very humid where they generally grow.
Fertilizer
Alocasia Mandalay needs more fertilizer to grow, so you need to fertilize it every month. You need to use liquid fertilizer. Long-term fertilizers are also an advantage.
17. Alocasia Pink Dragon Plant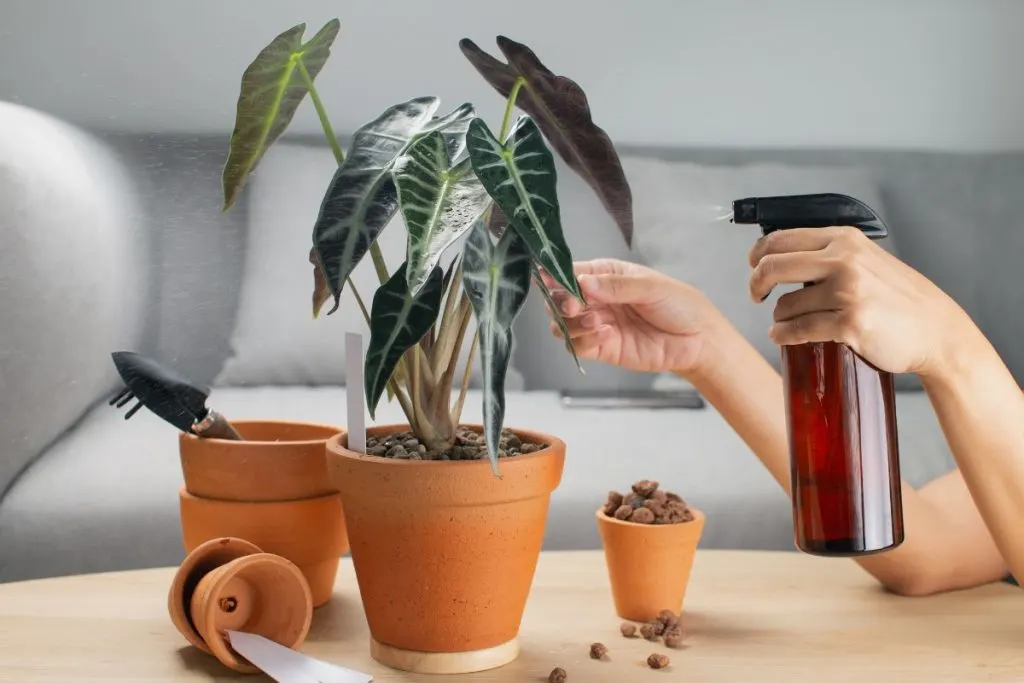 Alocasia pink dragon is an evergreen, soft, rhizome cultivar of the Araceae family. It grows due to its attractive pink stems and variegated leaves. They are large, oval, densely striped, white and green at the top and dark purple at the bottom.
Light conditions
Don't forget to protect the plants from direct sunlight. Do not place near windows exposed to direct sunlight. For optimal growth, move to a location with bright, indirect sunlight.
Watering schedule
Unlike other plants, these Alocasia pink dragons love water. Therefore, you need to stick to the watering schedule. Pink Dragon Alocasia requires 0.8 cups of water every 9 days in the absence of direct sunlight.
Soil type
Alocasia pink dragons are well-drained and can grow on well-drained porous soils. Aeration of the soil improves drainage and protects plants from flooding. The soil medium can be a mixture of 1 part soil, 1 part coconut peat, 1 part potting compost, and 1 part pearlite.
Temperature and humidity
For optimal growth, move to a location with bright, indirect sunlight. Ideally, you should maintain a temperature range of 65-80 ° F.
It is useful to understand their origin to determine the optimal combination of their heat and cold. He despises temperatures that are too cool or too freezing. This problem can be solved by moving the plants to a warmer place in the room during the winter months.
Fertilizer
Use a regular house plant liquid fertilizer for your plant.
Final Thoughts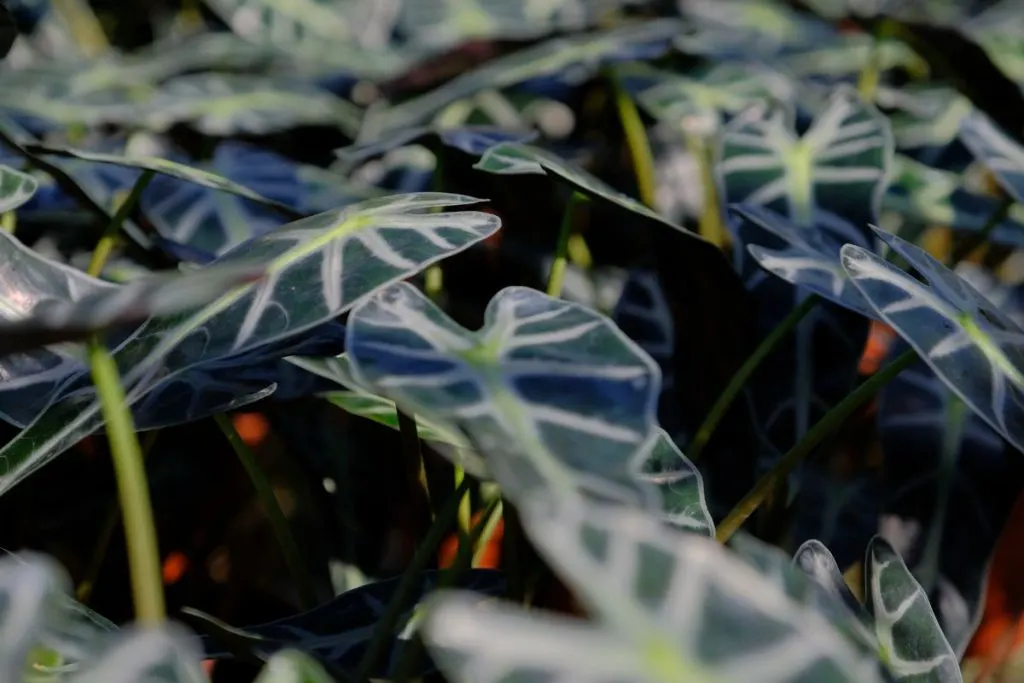 Dear ladies, we have come to the end of another article.
After 17 types of alocasia plant, we have come to the end and we can conclude that all 17 are worth a place in your home, right?
If you still can't say that one of those 17 plants is for you, at the very beginning you have many types of alocasia plants offered and you can decide on one of them.
Of course, we only presented you with the best types here in our article and we're sure that these 17 alocasia types are unbeatable. Good luck!